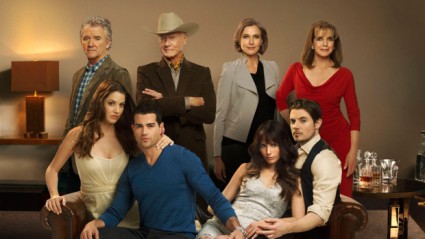 Ever since Desperate Housewives ended its eight season run, I've been going through a bit of a withdrawal. That show offered up equal doses of backstabbing, scandal and betrayal — enough to keep me hooked and on the edge of my seat. What can I say? I like fictitious drama. Now it seems that my withdrawal has come to an end with the debut of Dallas. You have to give TNT credit for re-launching this iconic series.
From 1978 to 1991, the original Dallas captivated a legion of fans on CBS. Nearly 80 million viewers tuned in to see the legendary resolution to the infamous 'Who Shot J.R.?' phenomenon. While I'm sure that gargantuan number of viewers didn't tune in to TNT's premiere, I'm more than positive that the ones who did were left satisfied. I'm in that number.
TNT offered viewers two back-to-back episodes and each one was filled to the brim with mind-blowing drama. Quite frankly, I don't even know where to start. The show seemed to be firing on all cylinders at once. Let's begin with what I liked, shall we? I thought it was really nice seeing the new younger players — Josh Henderson, Jordana Brewster and Jesse Metcalfe — but in my humble opinion, the veterans stole the show … especially Larry Hagman as the conniving J.R. Ewing. He only had a couple of scenes, but each one was effective.
Hagman still has it and without a doubt, the man can definitely deliver a line. I enjoyed seeing him scheme to steal Southfork away from Patrick Duffy's humble Bobby Ewing. It's hard to believe that after all of these years J.R. is still as cruel as ever. I mean, seriously? Is oil still as prized as it was in the 80's? I'm just sayin'. What's more is that his son John Ross, played with such evil glee by Henderson, seems to be just as ruthless … if not more so. Already they're both backstabbing and double-crossing each other. How long can that possibly last?
I found myself completely immersed in both hours. However, one must wonder how much backstabbing and betrayal is too much for one show. That was the one thought that ran through my head as I took notes to keep up with every twist and turn. It seemed that everyone had a damn secret. Bobby was keeping his cancer hidden from his wife, played by Desperate Housewives' Brenda Strong, while fellow DH alum Metcalfe's Christopher wasn't particularly keen on sharing an incident that happened regarding his eco-friendly solution to generating power. I could go on about everyone else's secrets, but it would take forever … and a day. Instead, I'll let you all discuss your favorite moments.
Ladies and gentleman, we've been left with a ton of questions to ponder until next week's installment. For starters, who is the shady chick that J.R. hired to derail Bobby's sale of Southfork? Did Christopher's wife marry him for love? Who sent Elena the mysterious email? What is Mitch hiding? And how will J.R. punish his son now that he knows John Ross is double crossing him? I'm dying to find out. Sound off in the comments below!
Photo Credit: TNT