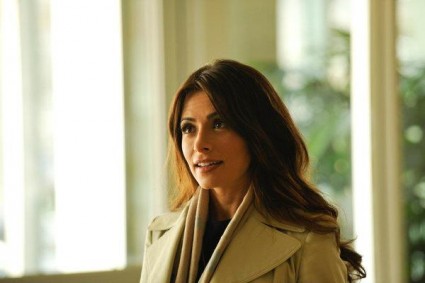 Season Two of Fairly Legal  closes tonight with the episode titled "Finale." While it is the season finale, it seems an oddly final name for a show that has not yet had its official announcement of cancellation or renewal. It's going to be a bit awkward if there's a renewal, at least. It certainly makes me wonder if the show knows something we don't. Or  maybe they just enjoy messing with us.
There was pretty much nothing 'shocking' in the finale. Kate and Justin breaking up again has been telegraphed for at least six episodes now, so that's done. The end of season two looks a lot like the end of season one as far as they're concerned: Kate and Justin are splittsville after being Friends-With-Benefits and Trying-for-More, and Kate has her own place and seems to be on track to maybe grow up a little. Though since this season forgot the previous season existed, maybe we'll see season three begin with the new D.A. in the hospital, Kate will hurry to tell him she loves him, and everyone will forget that they'd ended it.
It was also not shocking that Davidson was a dirty scumbag and it finally caught up to him. Though it was disappointing that Justin apparently will win by default and the actions of others, rather than defeating Davidson himself. For what was supposed to be Justin's major plotline this season, it fizzled more often than not.
I think the only thing that was shocking was that Kate didn't kiss Ben at the end, which I expected, given the heavy-handed "risk it all for love" message. Instead she finds out he's living next door which — seriously? Did he just move in there (creepy)? Or did she not know he already lives there, which makes her an idiot? Either way it's ridiculous, and not in a good way.
I'd like Ben a lot better if he wasn't around all the time, and the thought of him living next door to her and being in the office is not something I will watch with delight. I know they're trying for an Odd Couple vibe, but it doesn't work for me. He usually comes off as a smug know-it-all and does things like advise the senior trial lawyer how to do trials, the corporate lawyer how to negotiate, and the Expert Mediator how to mediate. Show, I realize you need your chunk of the residuals by adding a new character, but Ben is not all that and a bag of chips. I've got nothing against Ryan Johnson and I'm sure Ben is great fun to play, but I still have no idea what Kate is supposed to see in him. Sure, he's less of a dick than he seemed to be at first, but other than an expectation that his puppy infatuation be returned, there's nothing there.
But apparently the writers have a thing for women who give in (oh, sorry, "take a risk") to men who stare at them forlornly long enough. Because it seemed to hit Lauren, too. Robin does a couple of nice things and calls her a coward, and so she does go with him, despite the fact that he's also a manipulative jerk with a side company involved in political payouts and media suppression.  Lauren was the only character who actually grew this season from the last and I'm sad that the writers took that away in the name of some teenage fantasy of romance.
I want to go with them on the idea that Kate's going her separate ways from Justin to take some time to grow up, but how can she with Ben next door? She lost her job and Justin at the end of last season and it changed nothing; I doubt she'll change after this either. So I find myself in the awkward position of wanting the best for the cast, who have truly done good work with what they've had to work with, and dreading season three if this awkward hybrid of Fairly Legal and Dawson's Creek continues.
I want this show to be so much better than it is, I do. I certainly wanted this season to take the weak seeds of the first season and grow them into something better. It's had some good moments, the cast is uniformly great, and it can be funny. Lauren (Virginia Williams) has especially had a good season, showing so much more vivaciousness it's been fun to watch her. However, my overall impression has been one of disappointment, especially that the writers could find nothing better than a love triangle to bring "conflict" and regressing the rest of the characters to serve this dubious plotline and to prop up a new character. They could have taken the less tired route of the difficulties of adult romance, but they chose the easy way and didn't even do it very well.
So there's my bitter grapes. If you love it, by all means, sound off and tell me why!  I'd much rather wait for a third season announcement with excitement than resignation.
 [easyazon-image align="none" asin="B007PKSO2Y" locale="us" height="160″ src="http://ecx.images-amazon.com/images/I/41ITE3eVD0L._SL160_.jpg" width="112″][easyazon-image align="none" asin="B0019Z3P84″ locale="us" height="160″ src="http://ecx.images-amazon.com/images/I/51x-NJ6CzyL._SL160_.jpg" width="116″][easyazon-image align="none" asin="B0024FAD8S" locale="us" height="160″ src="http://ecx.images-amazon.com/images/I/51NUq%2BFEVHL._SL160_.jpg" width="120″]
Photo Credit: NBCU