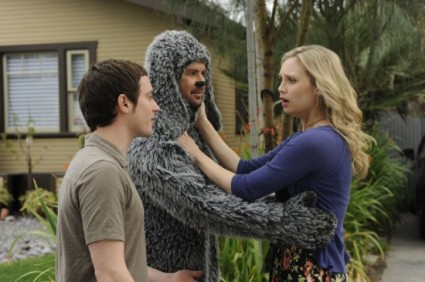 "Some of us think holding on makes us strong,
but sometimes it is letting go."
— Herman Hesse
Technically, this was the season 2 premiere of Wilfred, regardless of the fact we got last week's "Progress" with the familiar Robin Williams firmly planted in our minds as Ryan's psychologist. But it really doesn't matter in the grand scheme of things, does it? It was a "bonus episode" of the show, an early Christmas present from the creators.
But it was anything but brightly colored packaging and fancy bows for Ryan this week. Wilfred is spurning him. Jenna has apparently gotten back together with Drew who's still as dumb as a bag of hammers. And Ryan himself is alternately pining for Jenna and attempting to dodge any awkwardness Drew throws his way while doing what he can to get on Wilfred's good side. Remember: It was Wilfred who dutifully ran in front of that car at Ryan's behest last season, getting run over in the process. Little wonder Wilfy's pissed at him.
And that's not all he's pissed about. Ryan has been being incredibly selfish about the relationship between he and Wilfy, continually self-centered and wanting while not knowing what it is he truly needs. (Well … that's not completely true. It's a well known fact Ryan has designs on Jenna; she's something he wants badly, no ifs, ands or buts about it.) But Ryan's "self" is what's lacking, what's causing all the conflict and angst. And now, with Wilfred spurning his advances, things are in turmoil. Still — in between all the shenanigans he pulls — Wifred really has got it going on when you think about it. He's pretty damned shrewd.
Then, of a sudden, << Voila! >> .The problems Jenna and Drew are having are a superb foot-in-the-door for Ryan to "get straight" so to speak. Add to that Wilfred's need to get right with Drew and Ryan's problems seem as if they're just a short distance away from being solved.
But it's never that easy on Wilfred, is it? And that's what makes this show. The twists and turns, the awkward situations such as the circus Wilfred made out of the Health Kibble Incredible Dog Challenge. And the events surrounding the acquisition of the illicit steroids Ryan tried to procure were pretty hilarious. All good stuff.
But the best part of this episode was Ryan's confession to Wilfred he'd rather wave so long to his strange companion rather than do something that could harm him, complete with the gentle soundtrack in the background as accompaniment.
Crass and awkward and hilarious as the show gets sometimes, it's the tender moments that bring everything into focus and make sense of the chaos.
Notes:
What a superbly awkward hug between Ryan and "the shady guy" he was trying to buy steroids from to get Wilfred that "boost" he needed for the dog competition. It was oozily disturbing with just the right amount of (pregnantly long) camerawork applied to it … complete with the creep giving Ryan some head caresses. *ick*
Speaking of awkward, if there's one thing that's truly klutzy and inept it's an Australian trying his hand at the term "Hells yeah!" or attempting to speak in Drew-speak. Stop that crap.
He may be wily (steroid plant in Drew's luggage, anyone?), but Wilfred has got a terrific sense of innocence about him. Case in point: Him putting his foot down about the "Participant" ribbon he received at the dog challenge.
We're going to see Ryan and Amanda (Allison Mack, Smallville) get together. Count on it.
Quotes:
"Okay, Wilfy! Wanna play some catch? Come on!" — Drew
"Hells yeah! Catch is the shit!" — Wilfred
"Wilfred … I know you're having trouble remembering who I am … but I hope that, with time …" — Ryan
"I remember you, Ryan. Memory is like the Packers when they're behind by two touchdowns in the forth quarter. It comes back …" — Wilfred
"I have a strict policy against taking any drug that's not illegal. They're never strong enough. If I'm going to win this thing for Drew, I'm going to need the good shit." — Wilfred
"You mean … real steroids?" — Ryan
"I'm talking the back alley shit … the stuff that Kathleen Turner uses." — Wilfred
"I won't let you do something that will hurt you. I'd rather let you go …" — Ryan to Wilfred
[easyazon-image align="none" asin="1416547290″ locale="us" height="160″ src="http://ecx.images-amazon.com/images/I/51y7WssOEJL._SL160_.jpg" width="108″]
Photo Credit: FOX