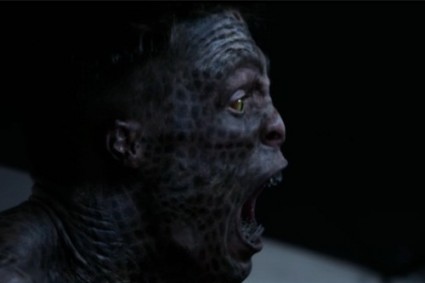 "What? Scott, I'm 147 pounds of pale skin and fragile bone, OK? Sarcasm is my only defense." – Stiles
My guess is that Gerard is not the one controlling Jackson, but it's another fun red herring, just like Lydia (not) being the Kanima. It sure was creepy when he just stood there (is intuition really a defense, or does he know more than he's letting on?), watching the Kanima circle him. It looked to me like Scott saved him, but it didn't look like Gerard thought he owed Scott anything.
I'm not sure it's possible for Lydia to have a normal guy crushing on her, so I'm deeply suspicious of her cute new neighbor. More important than that, though, is why everyone keeps talking about Lydia and immunity. Scott thinks she can cure him, but I'm betting she'll be the one who can save Jackson.
All of you Stiles fans … I'm starting to get on board. He gets more delightful with every episode. Instead of writing goofy antics for him, the writers are gracing him with witty dialogue and it's all falling into place. I missed seeing him and Derek playing off each other tonight, but he and Scott have great chemistry and he's really grown a set — Stiles is no coward, 147 pounds or not.
I think the Argent clan might be creepier than the Kanima; they are freaking everywhere! It was bad enough when Daddy Argent was lurking about the shadows in every episode, but then Gerard became principal and now Mommy Argent is a substitute? This goes far beyond nepotism into the realm of spine-tingling. That scene with Gerard feeling Alison's pulse to check for lies was downright nightmare-inducing … I could not live in the same house with that underhanded kind of abuse. *shudder*
I continue to be impressed with some of the character development, and in "Frenemy" Jackson shone. It was very easy to just perceive him as the 2D jock/bully last season. We never really got a whole lot of why he wanted to be turned, except that he wanted the power. But this season, they've really delved into why Jackson is the way he is. The guy's a pathetic character (not even telling his parents he loves them ever since he found out he was adopted 11 years ago), and Scott's sympathetic nature really seemed to touch Jackson … or maybe just made him feel more alone … or a little of both methinks. Colton Haynes is really rising to the challenge of giving Jackson some deeper layers; his single tear, his anger, his cocky face when he was in the police station at the end, his horror at watching himself change — I'm truly enjoying his performance.
Lydia's knowledge of archaic Latin shed some new light on the Kanima text translation — the Kanima seeks a "master," not a friend. Was that a purposeful error on the part of the French teacher, to throw suspicion from herself? I still think she could be the one controlling Jackson (though there are a lot of suspects — the science teacher, the photographer, Gerard …). Either way, it gives a nice out for all the deplorable killing and stuff Jackson has done, because it's not his fault — he was not in control. When Scott had his sympathetic moment and reminded Stiles that he did some not-so-nice things when he was not in control, it really hit home for every one — Jackson needs to be saved, not killed.
This and that:
Since Lydia is going to be the savior of them all, whether through her immunity or her smarts, she needs to find out what's going on sooner than later.
I love how tickled Scott was when someone bought Stiles a drink at the gay bar.
Mommy Argent's nickname for Stiles just might stick: "the odd one."
I know I was supposed to love the scene between Scott and Alison in the car, but all I could think was 1) These are 15-yo kids; 2) Way to freak out a 15-yo boy by telling him you want to be with him forever; 3) These are 15-yo kids; 4) This is where the writers are still writing weak dialogue. Maybe Teen Wolf will be a bit like Supernatural in that with such two good-looking leads, they have never nailed a sexy sex scene in the seven seasons on air. Teen Wolf may just never nail romantic dialogue … but it's OK, because these are 15-yo kids.
What do you think? Is Lydia the cure, either for Jackson or Scott? Who's the Kanima's master, and why are they killing in
Dexter
-like style, only murderers?
[easyazon-image align="none" asin="B0058YPGL6″ locale="us" height="160″ src="http://ecx.images-amazon.com/images/I/51RWwBBbX3L._SL160_.jpg" width="116″][easyazon-image align="none" asin="B0089A70XI" locale="us" height="120″ src="http://ecx.images-amazon.com/images/I/41tmRAKoroL._SL160_.jpg" width="160″][easyazon-image align="none" asin="B0054TKBBA" locale="us" height="120″ src="http://ecx.images-amazon.com/images/I/51kjeAglshL._SL160_.jpg" width="160″]
Photo Credit: MTV