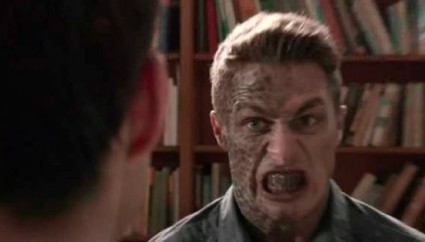 "It's everything Lydia can translate, and trust me, she's very confused." – Alison
"What did you tell her?" – Scott
"That we were part of an online gaming community that battles mythical creatures." – Alison
"I am part of an online gaming community that battles mythical creatures." – Stiles
"Oh, great." – Alison
Amidst a Teen Wolf episode filled with more questions, we finally got some answers about what is going on with Lydia (and a few more questions there, too). The cute neighbor boy was indeed a figment of Lydia's imagination, placed there by Peter, who has an inextricable hold over Lydia, even from beyond the grave. But we do now know that Lydia is indeed immune for some reason (I still want to know why) and is still of use to Peter. I'm assuming that she's somehow going to be able to raise Peter from the dead with that flower, and that it's likely going to happen at the most inconvenient time for everyone. That's what they get for leaving her out of the loop.
All of Lydia's scenes were highlights in "Restraint," from the creepy way the plot unfolded to the horror-film-like was it was all presented. It matched Supernatural in the mood-creating department, and that's saying a lot. Why am I still shocked when things in Teen Wolf are very well done? At some point I'll have to issue a formal apology, but for now, I'll just shout out a thanks for the most addicting summer programming out there, and if in the future you could air more than one new episode a week, I think we'd all benefit.
Speaking of creepy, Jackson is skeeving me out, with the snake swallowing and release through his eyeball, and his mood swings are worse than Kim Kardashian's PMS. Between the naked threats to Alison and the charming message on the blackboard, he's seriously not in control. Some of the pieces are starting to fall into place, and I'm sure Jackson's birth parents are going to factor in somehow. They were murdered and Jackson will need vengeance before he can become a werewolf. So how will Isaac's father and the mechanic figure into it? Did the mechanic work on the car? What I can't figure out is why the master would want these people dead, because that's what the translation is intimating, that the Kanima will kill whoever the master wants dead.
This and that:
Matt (otherwise known as the photographer kid) is going to be trouble. He's read too much and seen too much at this point.
The Kanima (not Jackson, from what I could figure, since he was at the police station) let the pregnant woman live … but only long enough for her to give birth. I'd keep a close eye on that baby. …
I know, I saw the bumper sticker on the science teacher's car, but is he really going to be the one controlling Jackson? It seems a bit obvious, and I really think the person is a female. In the first scene when the master was talking to the husband from the trailer, the legs looked feminine to me — thin, shapely calves.
Anyone else get The Breakfast Club vibes from the detention scenes?
Scott's mom's biggest grounding threat was taking away Stiles — what a cute nod at the bromance. And …
… Scott's mom mentioned his father, yet again. That dude is shrouded in mystery, and he's going to be a player at some point. He is very important to this story, I just know it.
I absolutely didn't understand why it was such a big deal for Scott to bring Erica to Derek instead of staying with Alison and Matt. Is it just because he went with the wolves instead of the humans? Um, Stiles is a human and they needed Scott's strength, it was as simple as that. That exchange between Scott and Alison was very weird for me.
Derek noticing that Gerard wasn't afraid of the Kanima at all — red herring, or clue? I still vote red herring, that he's the master, but perhaps a clue that he does know more than he's letting on.
How significant is it that Scott will work with Derek's pack to stop Jackson, but only on Scott's terms — to catch Jackson, not kill him? Doesn't that sort of make Scott the Alpha, not Derek?
[easyazon-image align="none" asin="B0058YPGL6″ locale="us" height="160″ src="http://ecx.images-amazon.com/images/I/51RWwBBbX3L._SL160_.jpg" width="116″][easyazon-image align="none" asin="B0089A70XI" locale="us" height="120″ src="http://ecx.images-amazon.com/images/I/41tmRAKoroL._SL160_.jpg" width="160″][easyazon-image align="none" asin="B0054TKBBA" locale="us" height="120″ src="http://ecx.images-amazon.com/images/I/51kjeAglshL._SL160_.jpg" width="160″]
Photo Credit: MTV