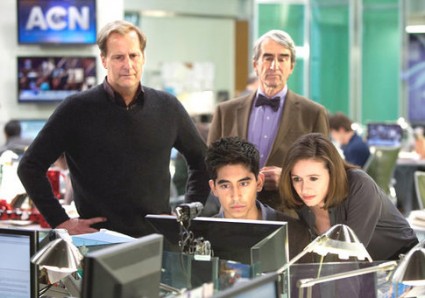 Four episodes in and I'm willing to admit that Aaron Sorkin has gotten to me. Again.
The latest episode of The Newsroom finally humanized Will McAvoy, transforming him into something more than a walking, speechifying windbag in expensive suits. Will's been revealed as broken and depressed, but he's not wrong in what he's been saying on the air. And the price for being "not wrong" on TV, for calling people who lie "liars" and for using facts to deconstruct vapid political arguments when the corporate owners of the cable news network want him to shut up because they have business in front of the congressional committees filled with people Will's show has harpooned, is character assassination.
Everything Will did in the dating arena in this installment — there was a better blend of news and romance in this episode than in, say, the second episode — was blabbed to gossip columnists and wildly distorted to make Will look like a hypocritical monster. The reason? Jane Fonda's Leona Lansing decided to use the other media properties in Atlantis World Media's portfolio to create a "context" in which she could justify firing Will for a "pattern" of bad behavior, whether it be drunkenly groping a woman (which he didn't do), smoking pot (he did one hit, though it wasn't shown on screen) and handling a gun on a night he made the case on ACN that President Obama wasn't after people's guns (he disarmed a date's handgun then, to dramatize how it could be used against her, wound up pointing the unloaded weapon at her). Lansing is playing hardball, just like Will and his boss Charlie Skinner — everybody should have a boss like Charlie — are playing with their new, take-no-prisoners style of prime-time news and commentary.
This "I'll Try to Fix You" episode was a sophisticated, brilliant take-down piece on contemporary television news and entertainment, tackling the insidiously sinister societal impact of "human cockfights" in the form of gossip and reality programming and ratings obsession, the reluctance to call liars "liars" and the insistence that there's a legitimate "other" side of every story.
Take, for example, the way in which Rep. Gabby Giffords' shooting was handled. (While I was initially irritated with the fact that Sorkin had The Newsroom's staffers react to real news events from a couple years ago, I've now come to embrace it as a clever way to critique contemporary news.) Every cable network, with the exception of ACN's live coverage, declared that Giffords had died. However, Will's staff thought the call was premature and they weren't comfortable going on the air with only one source saying she was dead, so, despite pressure from the shrieking corporate suit on the set, they decided to tell the viewing public exactly what they knew for certain.
That was a smart call, obviously, one that made the case for getting things right versus getting them first. Yes, one could argue that it's simplistic and unfair for Sorkin to write a script in which his heroes make the "right" call when they already know the outcome, but the mistakes in the reporting of the Giffords story still resonate and haven't altered media behavior. Just a couple weeks ago, CNN received ample grief when it erroneously reported that the U.S. Supreme Court had overturned the Affordable Health Care law. They took a serious hit to their credibility for jumping the gun and getting this big story so very wrong. Clearly, they hadn't learned from their past errors, making Sorkin's criticism all the more resonant.
As for this entertaining form of media criticism called The Newsroom, I'm totally hooked, in spite of my initial skepticism (hate the Big Foot thing, the Maggie-Jim melodrama, though I like Maggie and Jim). And I can't wait for next week's episode.
Photo Credit: HBO