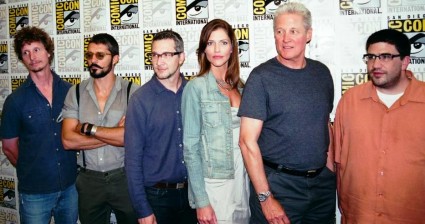 Following the huge success of TRON: Legacy, Disney XD launched the animated series TRON: Uprising, and it's proven to be ambitious and visually compelling. Producers Edward Kitsis and Adam Horowitz, director Charlie Bean, and members of the cast and creative team joined me at SDCC 2012 to discuss the impressive task of putting together an animated program that follows a smash feature film yet also airs on a network oriented toward a much younger target audience than Legacy.
"The first Tron was really exciting but it was new. Now everyone knows what a user is," said Kitsis. "We [could] go right into the story and hit the ground running [with Legacy], and that was exciting to us as storytellers. We carry that approach to Uprising which is 'Let's not write this show for kids. Let's write this show for everyone.'"
In fact, Uprising somewhat owes its genesis to what didn't make it into Legacy, as he went on to explain: "A lot of the stuff you see in Uprising really grew out of 'I wonder what's in this corner and I'd love to go in this Grid.' We had a very early scene in Legacy where Quorra goes 'I have a friend that can help us,' and it was a mechanic. It ended up getting cut but we were like 'I love that character.' When Disney said 'We want to do an animated show,' we were like 'This is what it is.'"
Horowitz added that the pace of television also lends itself to telling those individual stories of Grid denizens. "Movies take forever to make," he said. "We originally pitched the idea for Legacy in early 2007. We're just excited that we can keep telling stories of The Grid until we can make the next movie," which, yes, is in development.
"We have season one mapped out and season two," confided Kitsis. "There are certain really big things we want to hit but it will be dictated by how many seasons the show goes."
Joining them behind the scenes is lead character designer Robert Valley, who revealed that production on Uprising had begun even before the theatrical release of Legacy. "They weren't really in a position to show us too much of the movie," he said. "I got a few frames here and there, but we were months into it before the movie was released. By that time we'd already established direction."
So how does one do such a thing without seeing the product you're supposed to be following? Educated guesswork. "If one was the first movie and ten was Legacy, we tried to come up with some sort of middle ground stylistically that bridged the two things," he added. "As we got further in the production, it started to move more toward Legacy."
Tron himself, Bruce Boxleitner, returns for Uprising and is joined by an impressive voice cast that includes Battlestar Galactica star Tricia Helfer as the voice of The Grid itself.
What drew Boxleitner back to the Tron franchise? "The point of pride is very much that I don't want to repeat my entire career," he said. "I'm constantly asked 'When are you going to do Babylon 5 again?' I did it. That's lightning in a bottle. You can't recapture that kind of thing. Tron is ongoing. That's why I still like it and I'm thankful they asked me to do it. I love this animated series. I don't feel like I'm repeating myself because it's involving all the time."
As the one constant between Tron, Tron: Legacy and Tron: Uprising, he added, "To be standing here, I'm very proud of this animated series. They've expanded The Grid. We've aged Tron, like I have [aged]. I was 31 when I was doing the original one and now I'm 62, and I've gotten to be in all stages of Tron's video life. It's just humbling and I'm very grateful for it."
Helfer let me in on just how difficult = and rewarding – voice acting for an animated series can be. "What attracts me to any project is really who you're going to be working with, what the stories are, and what opportunities you have. The voice cast is quite extensive and the creative team is fantastic," she said of the show.
"But I wasn't sent a script or anything. I still have never seen a script. You show up and you read your lines; that's it, so unless I watch the episode I don't know what the episode is about. As an actor, I find that the biggest challenge of voice-overs. And that's not just Tron. 99% of the time you're voicing before there's even picture. You really rely on the director and the writers in the room. They've been working on it for years, so it really is their baby."
While she does a wonderful job voicing what is essentially a location, you might have to convince her of that. "I actually leave the booth going, 'I did a really bad job,' because it's so flat and so monotone," she admitted. "We did try a little bit more tension in the voice. We just kept going back, taking that out again, and just going back to this very flat voice."
Yet Helfer, Boxleitner and an outstanding voice cast that also includes Elijah Wood, Mandy Moore, and Emmanuelle Chriqui, teaming with this hard-working creative group of longtime Tron fans like Kitsis and Horowitz, have added a fresh and entertaining new chapter to the Tron legacy, continuing to build a franchise out of a movie that Disney XD's target audience was probably born well after. That is an accomplishment, and icing on the cake considering that Tron: Uprising is one of today's best animated series, whether you know the original film or not.
It's director Charlie Bean who summed up the Tron: Uprising experience best: "It's weird, because we've been this small group of people working on it and now coming to an event like this and it's out there, you see that people have actually seen this thing you've been working on in your office," he said with a laugh. "It's cool."
You can catch Tron: Uprising for yourself when it airs tonight on Disney XD at 8 PM ET/PT. The show also encores Friday nights at 10 PM ET/PT on Disney Channel.
[easyazon-image align="none" asin="B004K4IZ3G" locale="us" height="160″ src="http://ecx.images-amazon.com/images/I/51qq6l7LYpL._SL160_.jpg" width="127″]
Photo Credit: Richard Caughlin/Digital Airwaves