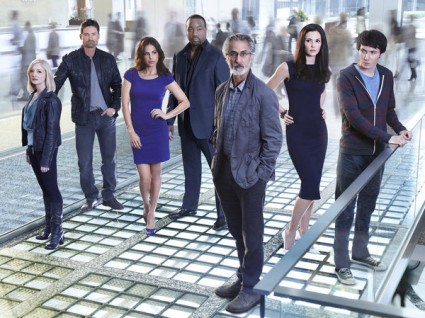 At the end of the first season, Doctor Rosen (David Strathairn) found his daughter, met long-lived nemesis Stanton Parish (John Pyper-Ferguson), and most importantly, took the Alphas public in what should be a game-changer for the series. For Season Two,  Alphas brings aboard a new showrunner and a new character, Kat (Erin Way), to see how all that shakes out.  The first episode we don't meet the new character quite yet; that's still to come as the show ties up the cliffhanger from last season.
Eight months after the end of the last season, Alphas are tabloid fodder and Rosen's discredited. While I have no doubt that such things would end up tabloid fodder eventually, I do have trouble believing the phenomenon is all that well hidden. There are so many incidents with so many Alphas, it seems any intelligent reporter would start to put it together independently. Plus, it's hard not to see the apparent success of the government at putting Alphas into the shadows again, as the new showrunner trying to put the horse back in the barn, rather than truly deal with the consequences. But other than that, the show still felt very much like the first season, and I appreciate the continuity in tone. In fact the only other obvious change I noticed was putting the brakes on the Nina and Cameron relationship
Since the show opens up with the team separated all out, the episode plot is one of  Putting the Band Back Together, which serves to re-introduce the characters and their abilities to any new viewers. Rosen is in a mental institution, waiting for an Alpha event that the government can't cover-up and needs him for. Cameron and Bill are part of Cley's law enforcement team. Gary's gone, Rachel's home, and Nina is doing her usual wild child thing. They are all lost or damaged, basically, and we're reminded of why they joined Rosen in the first place.  Though I think the person I empathized with the most in the episode is Gary's mother, who wasn't even seen; she's very protective of him and to have him absent for several months and then to get a call from him like that at the end? I imagine her hanging up the phone and just screaming, poor thing.
Naturally, as befits a Big Bad, the robbery at the beginning and the Binghampton uprising are revealed to be a plot of Parish's to raise an army of dangerous Alphas as followers. Those followers include Rosen's daughter, Danielle, and she's very interesting to me because she doesn't seem conflicted about her loyalties at all, even though they would appear to be at least angled, if not completely opposite. Although this episode wasn't a test either, since Parish wanted Rosen out of the  mental hospital, too. So I suppose we'll have to see where she goes if the two come into direct and lethal opposition. I think I hope she betrays her father for Parish because that's going to be wonderful for David Strathairn, who rarely gets a chance to play beyond benevolent,but it's always great when he does.
The action sequences were well done, and big for this show.  It's fun when they use Cameron and Rachel's abilities cleverly – in this case by Cameron's ability not be unique and someone else saying she was better, and Rachel's figuring out the cameras were a lie. That she could do that at all under that kind of stress of thinking her mentor was being burned alive was very impressive.
The band is back together at the end, with Rosen in a better position than he was last season – at least I assume he got his way to have more control over what happens to Alphas. It seems like a good idea since at the very least, even if he makes a mistake, he can own it, rather than having to take the blame for the actions of others as he did in Binghamton. But we'll have to see if he can come up with a better solution than warehousing dangerous Alphas half-comatose.
Overall a good start that gives us a peek at the arc to come with Parish as well as the dilemma of what to do with the escapees, as the world finds out more and more.
[easyazon-image align="none" asin="B0081QF6Q8″ locale="us" height="160″ src="http://ecx.images-amazon.com/images/I/51Hu89n3lpL._SL160_.jpg" width="112″] [easyazon-image align="none" asin="B000QDLSR0″ locale="us" height="160″ src="http://ecx.images-amazon.com/images/I/41XBh%2BR0tmL._SL160_.jpg" width="118″] [easyazon-image align="none" asin="B0041OOSMC" locale="us" height="160″ src="http://ecx.images-amazon.com/images/I/41p-hbdaHEL._SL160_.jpg" width="116″]
Photo Credit: NBCU