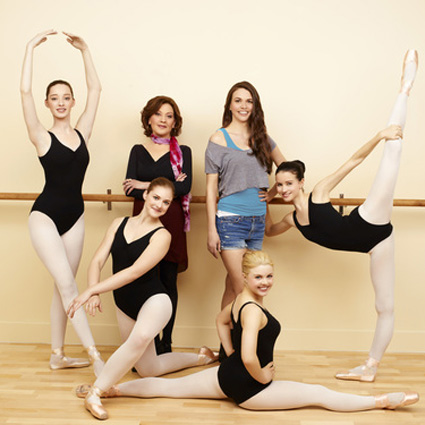 Does Bunheads, ABC Family's latest dramedy, portray dance's body issues, accurately? From my perspective, yes. Bunheads surrounds Michelle (Sutton Foster), a former showgirl\ballerina, widowed after a quickie wedding who remains in her husband's town with her dance teacher mother-in-law, Fanny. It also focuses on the dance difficulties experienced by Fanny's students, Boo, Melanie, Ginny, and Sasha. The body\age issues  portrayed in the pilot (1.01) and the "Better Luck Next Year!" Joffrey auditions episode (1.04) reminded me of what I experienced recently and made me want to high five Amy Sherman-Palladino (Roseanne, Gilmore Girls) for calling attention to body issues on TV through dance/theatre.
Although I do amateur theatre, I never experienced body issues until recently. Like all young girls, I took ballet, tap and jazz dance lessons all throughout elementary school. And, in high school my mother forced me to take lessons with our state's ballet company. I never returned to dance, enjoyed it or did well in it until I started ethnic dance post-college. A couple months ago, I answered a dance call for a regional volunteer theatre. Because of my dance background, I figured I'd be a shoo-in. I and a similarly curvy woman were the only two who showed up for auditions where the choreographer immediately stated she wanted people who were "small and cute," (clearly, that wasn't us) and stormed off to find them.
Does that remind anyone else of the pilot? If that isn't ego-crushing enough, after finding people in her cast that fit her definition of "small and cute," the choreographer placed myself and the other curvy woman at the back of the dance line and then requested we sit it out altogether to "try something." Unsurprisingly, she announced the people who hadn't auditioned but fit her definition of "small and cute" did a better job. Dude, I might've gained a few pounds, but they aren't in my head. I can definitely put two and two together.
That's why Michelle's  dance audition resonated so strongly with me in the pilot when the director dismissed her without watching her. Michele's right, "It's not 'no' because you're so young and hot. It's 'no' because you're starting to look like an IHOP cashier." Come on now, if you don't fit the definition of attractive in regional VOLUNTEER theatre, you know there's something wrong. Although I always thought I was a decent actor/dancer, I'm starting to wonder if I received roles in my 20s because I was in the first bloom of youth. And, the reason I don't receive them now is because well … I'm not.
I like that Bunheads matter-of-factly approaches theatre/dance age and body issues without watering it down or removing the show's light, humorous tone. I love that Sherman-Palladino portrays the body difficulties of Boo, the incredibly pretty, normal-sized blonde who looks "fat" compared alongside insect-thin dancers. I love that Fanny realized that the Joffrey audition board might not acknowledge Boo's dance capabilities and focus on her body instead.
To have a show on ABC Family, a network which increasingly appeals to female tweens and teens, covertly address weight issues is smart. Showing actresses of different sizes, as opposed to the uniform lollipop size, and calling attention to the unfairness of size-ism and age-ism, can help young girls feel better about themselves. I remember in high school when my brother called me fat when I grew from 5'8″ and a size 6 to a 5'10" and a size 8. I remember when a couple male writers told me that a very pregnant and very pretty Melissa Joan Hart had let herself go (for getting PREGNANT. Yes. Seriously.) These are things women deal with on a day to day basis and it's even harsher the closer you get to Hollywood and the professional performance realm (a realm I am so far away from as an amateur hobbyist).
So, Amy Sherman-Palladino you deserve a high five. Between the mock dance auditions Michelle staged, Michelle's skanky "hotel" abode for her longterm gig, and Michelle's failed auditions, I started to wonder if Sherman-Palladino actually penned parts of my life instead of her own. That's probably why I like the show. I LOVE that I find the entire cast believable as dancers. I LOVE that we see the teenagers act like teenagers, without placing the entire female cast in full makeup and Beverly Hills 90210-esque miniskirts. And, I love how heartbreakingly true-to-life Michelle, Boo, and Fanny's experiences appear without overwhelming the show's warmth, humor or love. So, once again, my hat is off to Sherman-Palladino. Keep it up and congratulations on the renewal.
Photo Credit: ABC Family