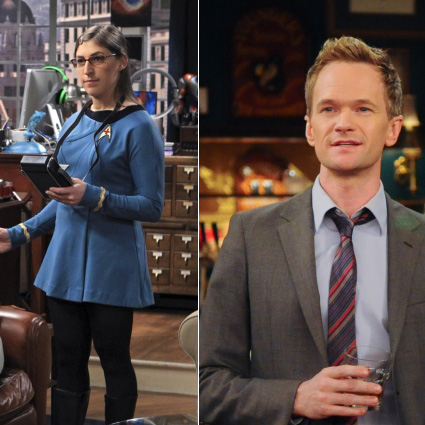 When I heard about Mayim Bialik's accident last week, after a car of tourists plowed into her, I immediately hoped for her safe recovery and realized that that she's one of the few actors I liked as a child who I still like now.
In a time of Beverly Hills 90210, Mayim portrayed Blossom, a quirky hat-wearing character who didn't show flesh, said "no," and contained believable intelligence. Today, I continue to respect Bialik's on-screen TV role of Amy Farah Fowler (Big Bang Theory). Anyone who can play both the androgynous alter ego of Sheldon Cooper AND the hyper-sexual ambi-sexual Penny-lover simultaneously always gets my vote.
Then, I started to think about other TV actors that I enjoyed as children and continue to enjoy. I loved Melissa Joan Hart in Clarissa Explains it All and I still love her today in Melissa & Joey.
I sent out a call to the CliqueClack list for people to list their favorite TV actors who they loved as children on TV AND continue to enjoy as contemporary adult TV actors.
An: People, help me out, what are some TV actors that you liked as child actors that you still like and respect now in their current day TV roles?
Keith: Well, how about child actors I was so-so about but like now? Like Neil Patrick Harris (NPH). Not that I *didn't* like Doogie Howser, M.D., but he was just OK.
Jeremy: I don't particularly think this, but one could make an argument for Mark-Paul Gosselaar (MPG). Personally, though, I do think Neil Patrick Harris has made the best transition, although I never watched Doogie Howser. I did watch the Cosby Show though, although I haven't seen That's So Raven with Raven-Symone, the "new cute one" on the Cosby Show.
Ivey: I'm no fan of Franklin and Bash, but I really like MPG's dramatic work on NYPD Blue and Over There.
An: Actually, I loved Doogie Howser as a kid (yes, he was my childhood crush). And, yes, NPH is equally awesome today ;)
Rachel: I always liked Candace Cameron from Full House, and seeing her in Make It Or Break It always made me happy in a nostalgic way. But it's gotta be said … I think it's quite possible that her acting has gotten worse over the years, not better. ;)
Kim: Can we count Sarah Jessica Parker in this mix because she was fairly young when she did Square Pegs (which I love though it's only one season!) and then she grew up to be the fabulous Sex and the City's Carrie Bradshaw among all of her other roles.
People are really mean to her [in Square Pegs]! I like her! Square Pegs was an awesome show, it's never given any due. I might have to write a flashback on it now.
Michael: Well, Kim …People are mean to Gilbert Gottfried and Bobcat Goldthwait … and I don't get that, either …
Kim: I like both of them too … people never appreciate those who are different I guess.
An: I'm also going to inject Michael J. Fox into the equation. I loved him as Alex P. Keaton. I loved him on Spin City. I loved him on every single guest role (Scrubs, The Good Wife) that he did. And, I'm so glad he decided to return to TV and I'm looking forward to his new show.
Michael: Michael sez: Ron. Howard.
Katie: I'm going to go with Kenan Thompson. I really enjoyed his stuff on All That (one of the funniest cast members, easily) and while he had some bumpy spots as he moved out of his teens (… Fat Albert comes to mind), it's really cool to see an All That alum be successful on SNL. Plus he was doing his spot-on Bill Cosby impersonation back in 1994. Oh, and Will Friedle of Boy Meets World for his awesome voice work since the show ended.
Brett: How can you leave out Kenan's appearance on iCarly?
So, who is your favorite TV child actor that you STILL like as an adult TV actor? And why?
Favorite Child TV Actor as an Adult
Neil Patrick Harris (46%)
Michael J. Fox (14%)
Mayim Bialik (10%)
Ron Howard (8%)
Mark Paul-Gosselaar (7%)
Raven Simone (6%)
Will Friedle (3%)
Melissa Joan Hart (3%)
Kenan Thompson (2%)
Sarah Jessica Parker (1%)
Candace Cameron (0%)

Loading ...
[easyazon-image align="none" asin="B004132IB6″ locale="us" height="160″ src="http://ecx.images-amazon.com/images/I/51vEEeVY8yL._SL160_.jpg" width="113″][easyazon-image align="none" asin="B0007Y08LK" locale="us" height="160″ src="http://ecx.images-amazon.com/images/I/51YYYEEBNRL._SL160_.jpg" width="116″][easyazon-image align="none" asin="B0000AKY3Q" locale="us" height="160″ src="http://ecx.images-amazon.com/images/I/51BJ45PWN4L._SL160_.jpg" width="113″][easyazon-image align="none" asin="B0009HLBR0″ locale="us" height="160″ src="http://ecx.images-amazon.com/images/I/51T8TP1C7YL._SL160_.jpg" width="118″][easyazon-image align="none" asin="B00151QYT4″ locale="us" height="160″ src="http://ecx.images-amazon.com/images/I/516-fg49IcL._SL160_.jpg" width="124″][easyazon-image align="none" asin="B000K7UBXE" locale="us" height="160″ src="http://ecx.images-amazon.com/images/I/51-pzHgzcmL._SL160_.jpg" width="111″][easyazon-image align="none" asin="B004MPRNAE" locale="us" height="160″ src="http://ecx.images-amazon.com/images/I/51pKxLBoJvL._SL160_.jpg" width="113″]
Photo Credit: CBS