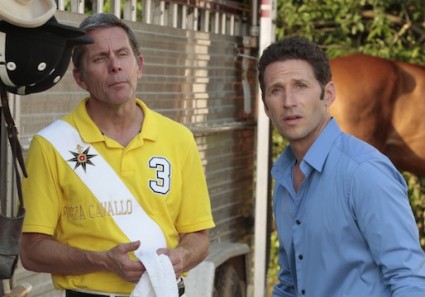 When watching an episode of Royal Pains, I generally can't help but wonder just how many of these dissimilar medical cases happen in real life … because if they do then that's pretty darn scary. Alas, no one really watches this show for believability. I like to think of it as quintessential escapism. Heck, all of the USA Network shows tend to offer this. Last night's episode proved to be another good one and even featured the return of the always welcome Henry Winkler as the always welcome Eddie Lawson.
It seems the writers are pulling out all of the stops in trying to keep the fourth season fresh. I thought it was pretty cool to see Winkler factored into Evan's storyline for a change. Generally, whenever Winkler guest stars, he's involved with Hank. Surprisingly, Evan's plot was actually the highlight of this week due to the fact that it provided a healthy dose of drama and intrigue. I enjoyed seeing Paige's parents again, but I didn't anticipate the twist involving Paige being adopted. I'm anxious to see how this plays out.
You know, Evan may be annoying at times, but I do like the scenes when he's there for Paige. They do make a good couple. I'm a sucker for that emotional crap. Since we're on the subject, I also liked Evan apologizing to his father for the dinner gone horribly wrong. That was touching. I also enjoyed the quick scene between Eddie and Hank. With Hank being the lead, of course they'd have to have Eddie interact with him at some point. Hank admitted to not having love figured out yet. He even mentioned Jill. Eddie told him that he was never worried about him. He trusts Hank will figure it out. I agree. Neither one of them have anything to worry about honestly.
However, Jeremiah may though. He was noticeably absent in this episode as was Boris, but it seems Divya is resolute in looking for love. Heck, maybe I should get on that myself. Half of the episode took place on a jockey field and that's where Divya found her man — one of the horse racers. That was one hell of a kiss that he planted on her. I can't blame him. Still, what does this mean for Jeremiah who was trying to ask Divya out in the last episode?
In terms of guest stars, I did find Gary Cole to be refreshing as one of the horse riders with a severe medical problem. That dude has now appeared on practically every TV show. Also, it's nice to know that Miriam Shor found work after GCB was canceled. So, what did you think of this week's Royal Pains? Is Jeremiah doomed? Does Hank have another chance at love? And how will Paige deal with now knowing the truth about being adopted?
[easyazon-image align="none" asin="B0037XPPAM" locale="us" height="160″ src="http://ecx.images-amazon.com/images/I/51AyOuqThBL._SL160_.jpg" width="117″][easyazon-image align="none" asin="B003L77H1Y" locale="us" height="160″ src="http://ecx.images-amazon.com/images/I/41zZWRDTrcL._SL160_.jpg" width="115″][easyazon-image align="none" asin="B007CF6S1Q" locale="us" height="160″ src="http://ecx.images-amazon.com/images/I/51Z4h6eaNaL._SL160_.jpg" width="112″][easyazon-image align="none" asin="B005SZED64″ locale="us" height="160″ src="http://ecx.images-amazon.com/images/I/51cpFLhHzEL._SL160_.jpg" width="112″]
Photo Credit: USA Network