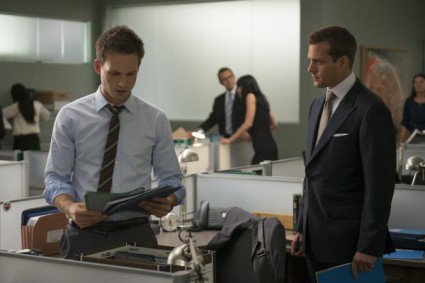 Suits pulled off a near perfect summer finale bringing an epic end to the two major storylines at Pearson Hardman. The letdown of "High Noon" was Mike's decisions in his personal life.
Daniel Hardman won the vote for Managing Partner. Was it a surprise? Not really. The shocker was that Jessica regained the position so quickly; given the fast pace of resolutions throughout the season, it worked.
Louis clearly struggled with his vote, but presumably voted for Daniel. Even if he did vote for Jessica, his actions after the vote matter even more. He was Daniel's errand boy. For years, he felt undervalued by both Jessica and Harvey, which set the stage for him to get power hunger.
Louis reminded me of when new managers get promoted and the power gets to their heads … only worse. He took such pleasure in wielding his control over Harvey without any consideration for the cost. Such a change from his proclamation to do things differently in the flashback. Not even Donna could make him see the light.
As pissed off as Harvey was about it, he handled Louis with surprising restraint. Sure, he tried to walk away with Jessica, but she set him straight. They couldn't run, instead they would stay and fight for the firm.
While the partners were dealing with the leadership change, Mike was suffering the greatest loss of his life with Grammy's death. During his eulogy, he recounted the death of his parents and how Grammy had been there for him. Now, he has no one. His family's all gone and he doesn't have his friend either (thankfully).
Rachel was the only one there for him and their relationship is quite complicated. It made sense for her to be hesitant to rekindle their romance given his emotional state. His secret hasn't gone away; it will still be a roadblock for them.
Mike has his weed and … Harvey! I loved seeing Harvey and Mike get stoned together. It broke down the mentor-mentee wall between them and provided an opportunity for them to really bond. Mike saw the softer, fun side of Harvey, while helping Mike grieve.
I'm not sure what my favorite moment was … probably the pretzels! But, it was touching for Harvey to tell Mike about his parents, peeing in Louis's office, and just being there. Their trip to the office was fortuitous as it lead to the realization of what Daniel did with the memo. And, Daniel's dismissal probably wouldn't have been nearly as quick if Louis didn't catch Harvey high.
In the end, Harvey and especially Mike bluffed their way into getting Daniel booted. It was a gamble that they had to take; they played the man and did it brilliantly. Bravo. Of course, Daniel will be out for revenge. Will he start up a new firm to compete with Jessica? As he said, "Don't kid yourself that this is last page of the story."
The memo case and Daniel's return were perfectly wrapped up in the finale. The only difficulty I had with the episode was Tess. One of the reasons I love Suits  is the witty writing, relationships between the characters, and overall feel of the episodes. The arrival of Tess at the funeral made sense, but everything after that was cliche.
Yes, Mike was upset over Grammy's death. And, yes, I could see him falling into bed with Tess to find some solace, especially after Rachel pushed him away. But, at the same time, I have a difficult time believing that Mike would go there with a married woman. Whether it is the case or not, it looked like the writers were  just trying to throw another block between Mike and Rachel.
At the memorial, there was no tension or jealousy between Rachel and Tess. They were Mike's friends and there to see him through his most difficult day. That would have been a unique and interesting route to take. Perhaps, the writers will surprise me going forward with Tess and I hope that's the case.
With Jessica back at the helm, Harvey and his balls back in their office and Mike in mourning, what will be the next crisis at the firm? We will have to wait until January to find out when the remaining six episodes of the season will air.
What was your favorite moment from the summer finale? Are you happy that Daniel was ousted? What about the new love triangle for Mike?
Until January….
Quotes
"Don't you dare touch his balls." — Donna
"I'm coming for you." — Harvey
"Go home. Now!" — Harvey
"Is this the coffee cart guy?" — Harvey
"You betrayed your team." — Donna
"These pretzels are making me thirsty." — Harvey and Mike [in unison]
"You ever hear of a hanger?"
"I know what it's like to be totally alone." — Harvey
"Shaquille O'Bryant." — Louis
"You're married." — Mike
"I am." — Tess
"You're right. I don't care about being smart." — Rachel
Photo Credit: USA Network