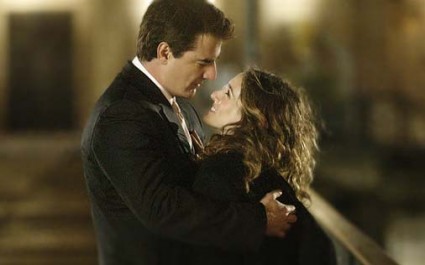 Fellow CliqueClack writer An wrote about Mr. Big earlier this week, and the great disappointment he was to her as Carrie's romantic lead in the Sex and the City series. While her points may be valid, I think Mr. Big served a very different purpose than the ones she mentioned in her post. Mr. Big wasn't the big letdown — he was the big dream, the fantasy. There was nothing practical about his presence or his role in Carrie's life. Mr. Big wasn't about reality and that's why the women of the world fell for him — hard.
In reality, I would have lived happily ever after with Aidan, there's no question. But the Big storyline really represented a lot more than meets the eye. Sure, part of it was the thrill of the chase. I can't imagine there's any woman out there who hasn't enjoyed that type of a relationship at some point in their lives, on some level. Usually, it's in high school or college and I suppose that means that Carrie should have been well over that, considering she was the champion of independent women everywhere, But she was a flawed character, and let's face it, people are flawed.
But even if Carrie didn't have to chase Big, he still embodied the qualities of a dream man: tall, dark and handsome; rich; only around part-time (because if we are fantasizing, why would we want a man around all the time to cramp our style); he was flawed and damaged and women like to fix things.
The beauty of the whole Big relationship is that it was fiction … but fiction designed to fulfill women's wildest fantasies. If you've got even a little bit of control freak in you (and let's face it, if you're a woman functioning in society or running a family or succeeding in a career in this day and age, you've got to have some), then this was your dream. Beyond the thrill of the chase, Carrie changed Big. Let me repeat that, and expound upon it in more detail. Carrie took a commitment-phobic man, clearly damaged and in need of several years of good therapy, and changed him. He committed to her, she was able to overlook the semi-abusive parts of his personality and tease out the good and she won. She won. She won the man, the relationship, the dream.
Is it realistic? Nope. But then, Sex and the City was a fictional series, a fantasy for all of us suburban moms wearing yoga pants and an Old Navy t-shirt most days. We got to live vicariously through Carrie and the girls; I got to wear Manolos and drink Cosmopolitans at midnight, out in New York. For that half hour, anyway.
So if Sex and the City can fulfill wardrobe and lifestyle fantasies, why not relationship fantasies too?
[easyazon-image align="none" asin="B003Z8ZCG6″ locale="us" height="112″ src="http://ecx.images-amazon.com/images/I/41Zvz0w6RuL._SL160_.jpg" width="160″][easyazon-image align="none" asin="B001HMSFFC" locale="us" height="160″ src="http://ecx.images-amazon.com/images/I/51CwTJS%2BGfL._SL160_.jpg" width="113″][easyazon-image align="none" asin="B006GLSO7I" locale="us" height="120″ src="http://ecx.images-amazon.com/images/I/41Df6SQsKiL._SL160_.jpg" width="160″][easyazon-image align="none" asin="B0011UBDTK" locale="us" height="160″ src="http://ecx.images-amazon.com/images/I/31ny4CoY35L._SL160_.jpg" width="117″]
Photo Credit: New Line Cinema