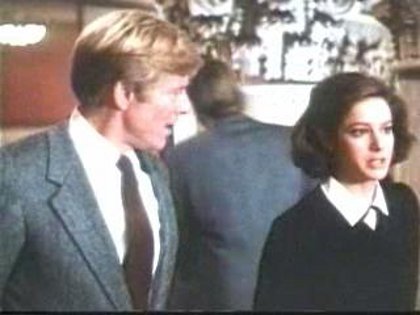 Today, I was hanging out with my father, for whom I am currently caring. He was flipping through the channels, mid-afternoon. It's a sleety April day in Provo, Utah. We are both bored. As he was flipping, there were a lot of available movies: The  Bourne Identity, Valentine's Day, A Single Man. We have seen most of them already.
Then he came across Legal Eagles, and I got a glimpse of Robert Redford's strong, square jaw before my dad settled on the Military Channel. I sat forward a bit, though, at Legal Eagles, in the grip of a very pleasant sense memory: I felt happy. As a teenager in the 1980s (it came out in 1986), I loved that movie. It's one of those movies, though, that you might remember fondly from your youth, you will not watch again; because you have discovered already that there are certain formulaic movies that do not endure even five years, never mind 25.
So, why do I have such fond memories of it? Was I really that vapid as a teenager? That is one possibility, certainly. But today it occurred to me that I had loved it because it was fresh and new to me. I had never before seen that particular formula: Boy (Robert Redford) meets Girl (Debra Winger); Boy and Girl HATE each other! Boy and Girl are forced together in close circumstances; Boy and Girl LOVE each other! There is a slight hitch with a vastly More Attractive, Blonde single rival (Daryl Hannah). However, to each insecure teenage girl's delight, Boy is loyal to Girl because she has Substance.
Therfore, even though I recognize the formula now, immediately, at the time it seemed like a relevation. In fact, I still enjoy formulaic movies — probably far too often. I have an M.A. in English, so I don't think it's a lack of ability or sophistication. However, I am a silly, sentimental person, so I don't mind being reminded of that first flush of seeing a successful movie formula (classic story? The Taming of the Shrew?) and how Substantial it made me feel at the time.
(I still don't want to see this particular movie again. I remember it fondly and I don't want that destroyed.)
Do you remember the first time you saw any "formulaic" movies? What was the formula? The movie? Does that formula still work for you?
Photo Credit: Universal