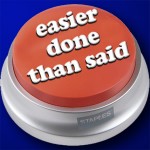 Everybody has something about them that's unique. Wouldn't you agree? Things which have come to define us as the people we are, that give us our personality and "flavor," if you will.
That being said, it should come as no surprise not only do I have "definitions," I have "rules," too.
Some may seem wacky; for example, it's a rule Cheez-its snack crackers taste better when they come out of the boxes printed with Darth Vader on them. (I learned this when Star Wars: Revenge Of The Sith promos went whole hog and invaded the local grocery store.)
Some rules go without saying. Some have been taken to the point of debate with friends and associates. Some are simply head scratchers.
But I don't make them up on a whim. Some of you (*looks in the general direction of Tara Shrodes*) think I pull rules out my backside. I don't. There's good reason for them. There have been times folks have said my rules need to be followed if you're going to associate with me. Nothing could be further from the truth. (But, I will go so far as to state things could quite likely go much, much easier for you if you follow them.)
And when it comes to the movies, there is a popcorn container-full of rules. For example, I do not enter into a movie after it has started. Period. 5 minutes after the movie has begun … 1 minute in … 15 seconds in, no. Nuh-uh. Doesn't make a difference. I don't do it. And inappropriate movies for kids, whether they be "R" rated or if your kids are fidgety or whiny or whatever? You're going to get an earful from me, you best believe.
Which leads me to my #1 Rule: No talking in a movie. None. Zippo. Not a bit. Keep it quiet. Verboten. Silence is golden, except what's coming out of the speaker from the film, Bobo.
Seems simple enough, right? Common sense kind of thing, don'tcha think? Goes without saying? One would believe.
But I can't tell you how many times this rule has been violated to the extreme when it comes to me and the movies.
My wife and I finally got the rare chance to catch a film back in late 1998. We'd gone most of the year without seeing a film in a theater. The film we chose? Titanic.
"Wait. Michael: That flick came out in 1997 … and you didn't see it in the theater until late in 1998?" Correctomundo. I told you it'd been a while since we last ventured into a movie house, didn't I?
Tickets purchased, bathroom visit in the bag, popcorn, munchies and a drink securely in hand, we ventured in. The grandeur of the film, the epic sweep, the adventure, the fact we were at a movie all by our lonesome without a child in tow … it was rather glorious. There was even an intermission — at 194 minutes in length, that was appreciated by everyone.
I was loving the movie right up until the last 20 minutes. There was a group of teens way down in front of the theater making monkey business. Chiding the scenes on the screen. Ooooooooo-ing and joking and giggling at the screen to the distraction of everyone in the theater, including my wife and I. I went down and told them to shut up in a not-so-kindly manner and they did … for all of 15 seconds. That did it. Out the theater I stomped and demanded to see the manager.
A friend once told me if you whine and complain and don't do anything more than that, you're nothing but a whiner and a complainer. Do something about it, however, and hold people accountable, and what you do is not only make yourself feel better about being proactive, but you are doing others a favor in letting them know there's a problem needing correction.
The manager I addressed the situation to was accommodating enough and ended up tossing the kids out by their Buster Browns. But I wasn't through. While he apologized for the inconvenience, while I told him I was appreciative for the effort, I matter of factly noted I was pissed I'dn't a clue how the film ended. (Seriously. It was Titanic. Everyone and his brother knows how the film ends: The ship sinks, hundreds of people die horrible deaths. If you think about it, my complaint about the ending was rather comical.)
The manager graciously gave my wife and I passes to another film for the inconvenience. I was prepared to ask for compensation of some sort because of that group of little pissants but, in the end, I didn't need to tread down that path.
Rules, people, rules. While some may be common sense, the fact of the matter is common sense isn't so common.
Especially in the movie theater.
Photo Credit: Staples