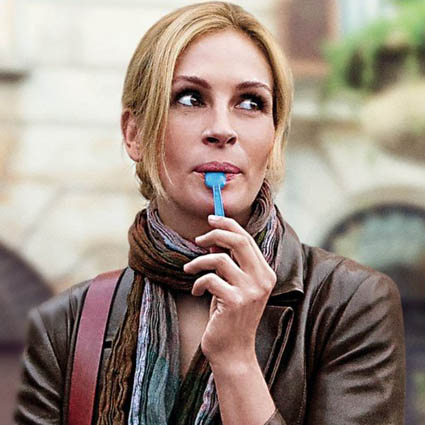 Eat, Pray, Love is most definitely not chick literature (or its filmic counterpart, the chick flick), but it isn't really women's literature either. Eat, Pray, Love surrounds travel journalist Liz Gilbert leaving her unsatisfying marriage to re-discover food in Italy, forgiveness in India, and self-love in Bali. Chick literature and chick flicks typically celebrate the protagonist's search for identity through a slightly humorous second adolescence (i.e. Bridget Jones' Diary, In Her Shoes, or While You Were Sleeping). In contrast, Eat, Pray, Love seems closer to women's literature, chick lit's older more mature sister, where extreme circumstances, like divorce or death, catalyze the heroine's search for a new self (think Under the Tuscan Sun, Waiting to Exhale, or Flirting with 40). Ordinarily, I hate women's literature because it's depressing and slightly morose, but I dislike recent chick flicks (i.e. The Wedding Planner or The Wedding Date) that proclaim the woman's need for a good man and great hair. At its best, Eat, Pray, Love seems closer to women's lit through its realism, lack of unnecessary makeovers, and quiet energy; yet, at its worst it takes the reductive man-centric perspective of contemporary chick flicks. Although I cannot give the film an overtly positive or negative rating, I can call out the best and worst characteristics in both genres.
At its best, Eat, Pray, Love bucks the recent chick lit trend. We don't have un-hilarious, publicly humiliating displays of emotion. We don't have chick-porn scenes where the director believes I'd rather see Katherine Heigl as opposed to Gerard Butler naked. We don't have the attractive best friend who's made to look less attractive so the star will stand out. And, it isn't a vanity project hinged on the main actresses' beauty. Instead, it realistically portrays the heroine's experiences without devolving into tired genre clichés. I loved Viola Davis as the quietly supportive best friend. I enjoyed James Franco, essentially playing James Franco, as Liz's serious, twenty-something actor boyfriend. And, I appreciated the collaborative efforts of Robert Richardson's cinematography, Charley Beal/Ravi Srivastava's art direction, and Ryan Murphy's directing for the quiet shots of sunlight on a table, the subtly sensuous preparation of asparagus drizzled with olive oil and the contrast of stark white eggs set in temptuous boiling water. Most of all I congratulate Julia Roberts for traveling far from her Pretty Woman days. She casually carried the movie through graceful dignity. My favorite scene encompassed Roberts' facial expressions when telling a lover that not doing what he wanted didn't indicate her inability to love herself.
In fact, only Julia Roberts' quiet interpretation prevented me from seeing the character as purely self-centered. When at its worst, Eat, Pray, Love assumes the most self-oriented characteristics of the worst chick flicks out there. I haven't read the actual book, but a woman undergoing a mid-life crisis to leave her husband and a series of attractive, intelligent and supportive lovers in search of "something" would've made her seem unsympathetic, if male. However, a heroine whose casual wealth enables her to travel the world for a year without worry, who hadn't experienced singledom for more than three weeks after leaving her husband, who sent a letter to her second lover detailing how much better she felt after leaving him, and whose self-loathing at leaving multiple desirable men, caused a 17-year-old forced into marriage against her will and a recovering alcoholic who almost committed filicide all to comfort her, just seemed wrong. Additionally, having someone as professionally gorgeous as Julia Roberts deliver a monologue against food-loathing, would have seemed stronger coming from another actress.
Overall, the items I liked most about Eat, Pray, Love surrounded its incredibly well-constructed, cinematic shots and its ability to buck the chick lit trend. I appreciated whenever the cinematographer/director cast a respectful tone on each country without  idealizing or reducing them to cultural stereotypes (excluding the humorous "gestures" scene). Yet, without the cinematic gloss, the film lacks a plot and, like most chick flicks, eventually preaches that being in love necessitates losing yourself. If you liked Under the Tuscan Sun, you might enjoy its more sedate cousin. Although I finished the film feeling middle of the road blah and viewed the main character as unsympathetic, I'm giving it three clacks because I enjoyed the writing, acting, directing, and cinematography. All the same, if a guy I met for a couple months suddenly tried to force me into an isolated boat without any clothes or letting me tell my friends, well, we all know how that one ends.
Photo Credit: Sony Pictures