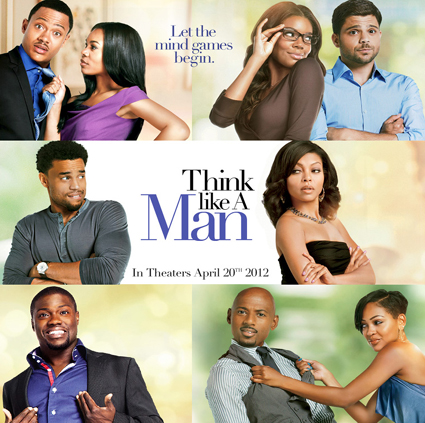 Don't underestimate Think Like a Man. Although I went into the film with incredibly low expectations, anticipating a highly sexist comedy with jokes that pandered to the lowest common denominator, I received the total opposite.
Think Like a Man is a smart comedy that fairly portrays relationship difficulties where both parties selfishly contemplate their own needs, as opposed to those of their lovers. The film, co-written by Keith Merryman and David A. Newman, who also co-wrote Friends with Benefits (2011), bases itself on Steve Harvey's 2009 self-help book, Act Like A Lady, Think Like a Man. If you've watched He's Just Not That Into You, you've seen Think Like a Man. Is it a chick flick? Yes. But, it's a chick flick done right.
Think Like a Man features an incredibly smart, racially diverse cast. Ignore the posters. They're slightly misleading. When I initially read the cast list, featuring actors who are typically selective in their roles, I still had my doubts about the film until I saw it. Then I understood why Michael Ealy (Californication, The Good Wife, FlashForward, Sleeper Cell, Common Law), Taraji P. Henson (Person of Interest, Larry Crowne, The Curious Case of Benjamin Button), and Gabrielle Union (FlashForward, City of Angels, Love & Basketball, Bring It On, 10 Things I Hate About You) signed up. Even though Chris Brown makes an appearance, he is not a featured player. In fact, he plays a true-to-life cameo role as a douche that abuses his girlfriends by forgetting their names and stealing their food. And, it correctly keeps Wendy Williams and Sherri Shephard in small one-line roles. Although I loved the revered Jennifer Lewis as the mama's boy's mama, the film isn't about the names. Like a good chick flick, it's about the characters.
Think Like a Man follows one set of male friends (the player, Romany Malco; the mother's boy, Terrence Jenkins; the dreamer, Michael Ealy; the uncommitted man-child, Jerry Ferrara; the happily married man, Gary Owen; and the happier divorced man, Kevin Hart) and the women they pursue (the business woman, Taraji P. Henson; the single mother, Regina Hall; the walk of shame woman, Meagan Good; and the man-child's successful girlfriend, Gabrielle Union).
The script is well-paced, featuring non-stop laughs in the first thirty minutes. But, as the film delves deeper into the relationships, the insightful humor continues, but in appropriate places. Kevin Hart's happily divorced character literally steals the show in almost every scene. However, the script doesn't pander to laughs. When the writers make a joke, it's damn funny, but the script never veers away from the plot.
I was afraid the movie would stereotype the business woman as emotionally frigid and mentally broken without a strong, relaxed man to show her the way. While she starts off materialistic, they eventually dropped that aspect of her character and instead used her to voice the audience's thoughts about Harvey and his book, calling it sexist and silly. They celebrate her success by showing her receive an award where her dreamer boyfriend realizes that to match her, he shouldn't just dream about his goals. Of course, she eventually converts to the Tao of Steve. However, her character's evolution focuses less on "strong business woman = bad" and more on a trait shared by both men and women, selfishness (which her ex demonstrates).
I call this a chick flick done right because recent chick flicks reduced the female protagonist to a set of clothes, provide her with a cardboard love interest who makes hideously unrealistic, romantic gestures, rely on a montage to show her relationship (as opposed to writing actual dialogue) or only show one character's perspective. Yes, the Think Like a Man women rock hot clothes, but only when on dates. When at work, Henson's character dresses in a suit. When with her kid, Hall's character wears pants and flats. When the men achieve relationship enlightenment, they're still pretty honest about their desires. And, while the men realize who they want to pursue, we don't have ridiculous overblown gestures. Even better, we SEE the couples actually go out on dates and discuss their relationship. I SEE why the player likes the walk of shame woman (but I don't quite comprehend her interest in him). Also, the show introduces the characters separately, pre-relationship. So, we understand them as individuals (and their jobs), before focusing on the relationships.
Are there a few false moments? Well, no matter how much weight Jerry Ferrara lost, I still see him as Turtle. And, no way could Turtle land (and keep) a woman as hot as Gabrielle Union for NINE years while still acting like a college kid. Steve Harvey doesn't appear in the film save in talk show interviews, spouting advice from his book. I found that particularly clever. But, listening to the woman still quote "Steve says" at the 60 minute mark became slightly tiring. Luckily, that faded out, as well and all of the women brought heart. Although it was easy to overlook Gary Owen's married man character, he gets his own in the end.  And Arielle Kebbel did a great job as Union's girl Friday. However, for anyone who wants to bring their kids, remember Sex and the City? Let's just say Taraji P. Henson and Michael Ealey steam it up a bit.
Should you see Think Like a Man? Regardless of what race or gender you are, I say yes. This is a smart, funny comedy that doesn't pander to the lowest common denominator or just one sex. It's a universal film that everyone can appreciate.
Check out our red carpet coverage of the Philadelphia premiere!
Photo Credit: Sony Pictures