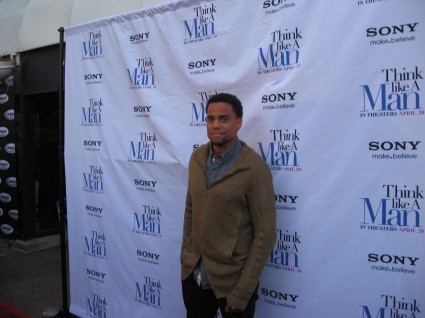 This week I attended the red carpet premiere and screening for the adaptation of Steve Harvey's Think Like a Man (in theaters April 20) at Philadelphia's Ritz East Theatre which featured Steve Harvey and Michael Ealy on the red carpet. If you haven't read the book Act Like a Lady, Think Like a Man or Steve Harvey's Essence Magazine articles, it's basically He's Just Not Into You, common sense advice for the woman who threw out the rules and thinks the mama's boy commitment-phobic player might eventually change his mind. He won't.
I managed to talk to Michael Ealy on the side and asked if he'd return to the The Good Wife as well as other projects in play. While he won't return to the The Good Wife anytime soon, we will see him on Common Law premiering on USA in May. Michael Ealy surprised me through his down-to-earth nature, giving a little bit of himself to each interviewer.
I listened to Steve Harvey, addressing the surrounding crowd, speak warmly of the film, feeling it did the book justice without degrading the comedy to buffoonery. He's right, it didn't. I felt hesitant about the film because I feared it would offer a script full of sexist undertones while appealing to the lowest common denominator. It didn't. In fact, it made the ultimate skeptic, me, consider buying the book.
For those who might want to throw shade at Harvey about writing a book for women, he admitted he's "not a relationship expert," he's an "expert on manhood."  He started it for his daughters to educate them in the ways of men, but admitted he doesn't offer anything a woman does not already know. However, sometimes a woman needs an outside force to reinforce her common sense.
The charm Harvey spread on the red carpet continued inside when both he and Michael Ealy introduced the film. While Michael Ealy received a warm reception and revved the front row crowd by saying they were so close it'd feel like "they were licking [his] face." However, Steve Harvey clearly reigned supreme when the audience roared at his arrival. Oddly enough, the red carpet crowd included a heterogeneous gender mixture. However, inside, as my Philadelphia Inquirer seatmate noted, the audience constituted a 98% female mixture.
All I can say is this was an awesome event. When you watch the Oscars on TV, it's typically action-packed with wall-to-wall stars. I won't lie. Excluding the five minutes when Michael and Steve appeared, it typically surrounded waiting, finding a spot for my camera and talking to the other photographers/journalists on the carpet. Continuing his candid humour, Harvey called the red carpet a "two man" "red rug" scenario. Surprisingly, Michael Ealy remembered me when he sat down a seat away in the screening and proved incredibly patient with the fans behind him who eagerly offered him popcorn. And, yes. His eyes are that pretty in reality.
Although I typically eschew red carpet events, I'm glad I attended this one. The film surprised me in its brilliance and its humor. Steve Harvey was right. It wasn't buffoonery. While Vulture.com wondered if the film would find an audience outside its core cast's race and gender, this proves such a universal film that if you don't see it (regardless of your skin tone or presence of ovaries), you're missing out. Is it a chick flick? Yes. But, if you're a guy, you'll enjoy it too. Trust me.
For a higher quality video, click here.
Photo Credit: A. Nicholson