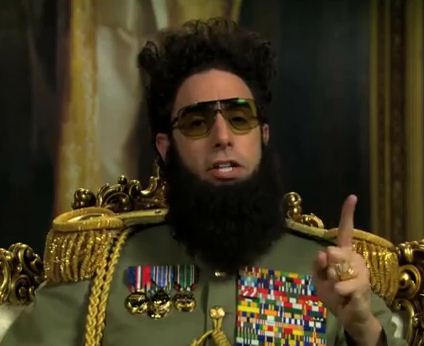 Let me ask you a question: Does anyone — ANYONE — give a rat's ass about this?
While it's mildly entertaining Sacha Baron Cohen has bullied his way around the secret circle of AMPAS stuffed suits, shaming them into letting him have his tickets back (and, possibly, traipsing down that red carpet as his alter ego General Aladeen from the upcoming The Dictator), but that's not what it's all about.
What it's about is publicity for Cohen and his film, proving once again there's no such thing as bad publicity:
Here we go again with yet another throwaway piece of celluloid which will no doubt raise big bucks to begin with then fade into the background of (dubious) cinematic history.
However, I will confess: I did give "You've Got Mail Bomb" a small chuckle.
Photo Credit: 2012 Republic of Wadiya