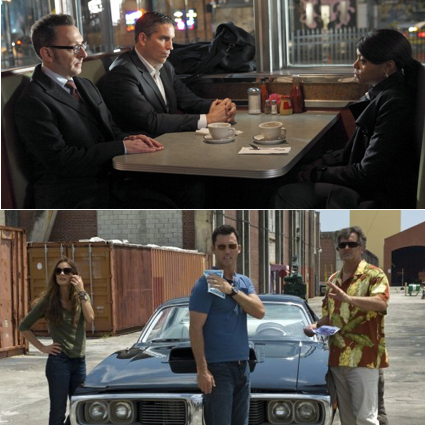 Person of Interest is like Burn Notice's third season where ex-spy Michael Westen ran around the city saving lives, pursued by a justice-bent female cop.
However, Person of Interest takes Michael Westen's story one step further. What if the people Michael hinged his humanity upon died or disappeared? What would happen to Michael if his lover, Fiona, passed away; Sam, his best friend, became dirty beyond all salvage or was brutally killed; and Madeline, his mother, just was not around? What if Michael didn't fight his burning? What if he accepted it and became bitter towards his former agency? What if Michael didn't have a childhood home to house him or a Fiona to retrieve him from the airport? Well, you'd have an aimless, homeless, utterly broken spy drowning his fears in alcoholism. You'd have the start of Person of Interest.
And, what if the person who starts Michael on his local, crime-solving path is a nebbish, uber-cold, computer-savvy figure turned reclusively paranoid because of past difficulties? Well, you wouldn't have the Miami Scooby gang. You'd have a cold Michael Westen who helped people with power and finesse but always seemed slightly empty. That's where Person of Interest's pilot ends.
Person of Interest is a grittier version of Burn Notice with all the warmth removed. In fact, it's the Burn Notice we might've had if USA set it in the New York area (Newark,NJ) as originally planned. The pilot opens with homeless ex-spy, John Reese, who believes in good but no longer pursues it due to co-worker betrayal, an absent family, a dead lover and a dead best friend\CIA handler. After an inquisitive New York cop, Joss Carter, saves him from potentially brutal beatings (OK, she saves his pursuers from his brutally beating their asses), an eccentric computer-savvy genius, Harold Finch, requests his help in saving innocents from detrimental events predicted by a machine he created to avoid the next 9/11. Eventually, Reese encounters and bullies corrupt cop Lionel Fusco into helping his quest. Together, the four race around the city saving innocents from harm.
I am seriously obsessed with Person of Interest. The show isn't one you can watch in pieces. You can follow the action, but you miss the small human components that compel you to return each week. The show features two film stars, James Patrick Caviezel (The Passion of the Christ, The Count of Monte Cristo, Pay It Forward) as John Reese and Taraji P. Henson (Think Like a Man, Larry Crowne, The Curious Case of Benjamin Button) as Joss Carter, as well as film writer Jonathan Nolan (The Dark Knight, The Dark Knight Rises) as the creator. Although TV and film are increasingly inter-crossing, seeing such filmic talent all in one place on network TV (and on CBS) still feels rare.
Despite the absence of Burn Notice's warmth, I'm intrigued by the show's relationships. Burn Notice surrounds the core four's mutual trust and respect for each other. However, in Person of Interest none of the core four fully trust each other. Despite relying on each other for survival, they aren't aware of the other's relationship in the big plot and continuously spy on each other.
Luckily, Reese's relationship with Carter humanizes him. Whenever he worries about Carter or her son, his intense freak outs display a swoon-worthy softer side. In contrast, his interactions with the week's baddie are always ice cold. No, they're polar cold. Even when talking to Fusco, he either mocks or condescends to the pudgy detective. Even when interacting with the week's victim, he typically assumes a veneer of insincere concern. It's pretty clear he knows the victim will trust whatever he says because he's done this before. In fact, it's slightly creepy and always flags my used car salesman/pedobear alert. Seeing him mildly flirt with/worry over Carter, briefly surfaces his humanity.
The contrast between Finch and Reese's treatment of Carter always amuses me. Although Carter is a former army interrogator, a single mother, and a hardcore cop who passed the bar, Reese treats her like … a traditional woman who needs protection; but, not as a damsel in distress. He utterly recognizes and trusts her capabilities. However, he feels she trusts too much and has too few people to professionally rely on. By contrast, Finch views Carter as a straight-up tool to use. In "Super," I laughed when a temporarily handicapped Reese asked Finch to protect her. Instead, Finch bullies her into apprehending one of the week's suspects.
Finch and Reese are another interesting relationship. When around Reese, Finch slightly relaxes and allows his goofiness to appear. Yet, when he interacts with Carter (or Fusco), he's cold to the point I need Antarctica to warm me up.
I loved Burn Notice's feeling of fun and hope. Pre-season five, Michael's belief the CIA would recall him, kept him alive. By contrast, Reese (and Finch) have a death wish, assuming the baddies they fight will eventually kill them. In two episodes, Reese planned on sacrificing himself to protect the children he rescued. I never understand why Reese tells Carter he'll always back her, considering his death wish.
The true difference between Burn Notice and Person of Interest takes ethics under consideration. Both Reese and Westen save innocents from danger. However, Michael does it when asked and only bugs the houses of the clearly evil dudes. By contrast, Reese clones the phones, videos the apartments and follows both the possibly guilty and the clearly guilty. Even if it's to save my life, would I want someone sifting through my personal data without my permission? Couldn't Reese just stalk me from afar and thwart anyone who might jump me? Honestly, he STILL videos Joss' desk, weeks after he saved her.
Jim Caviezel is super hot, super suave and a super ass-kicker. And, DAMN, he looks good in a suit. Each week I enjoy his varying facial expressions, his velvety voice and his steel blue eyes. Likewise, I marvel at Henson's abilities. Like Julianne Moore, she throws herself into the role, facially emoting her frustration. Her usage of all her facial musculature to convey her weekly disappointments continuously impresses me. She LOOKS like a harassed New York cop working 11-hour shifts, fighting a losing battle against police corruption.
I congratulate the costume and makeup department for dressing Carter like a cop. I have issues with cop shows like Castle or Rizzoli and Isles whose female officers display long wavy hair and three-inch heels. It isn't practical or realistic. Person of Interest brings us back to Homicide: Life on the Street-style costuming. Each week Carter wears a ponytail, sensible shoes and unflattering suits. Unlike Think Like a Man, which pays tribute to Henson's ability to rock form-fitting, Herve Leger bondage dresses, Person of Interest isn't about her looks. She rocks crappy all-gray or all-tan suits with pleated fronts. And, I like that. But, I wouldn't mind an episode with Carter rocking a kickass dress and Reese rocking his usual suits, because, well, they're hot.
Overall, Person of Interest is Burn Notice's darker cousin where Michael's friends are dead, missing, or corrupt. If you ever wondered what would happen to Michael if Fiona died, Maddie disappeared, Sam stayed corrupt, and Detective Paxson never gave up (but took on some of Maddie's personality), this is it. Unlike Michael, Reese sees his local efforts as having more importance than global ones. Person of Interest investigates what happens to people when they lose their trust (Reese, Finch) or who can't stop trusting despite multiple betrayals (Carter).
Is one show better than the other? No. Is one more fun than the other? Technically, yes. But, Person of Interest is slowly uncovering its funny bone. Would I recommend both to fans of each show? Hell, yes.
Photo Credit: NBC Universal,CBS