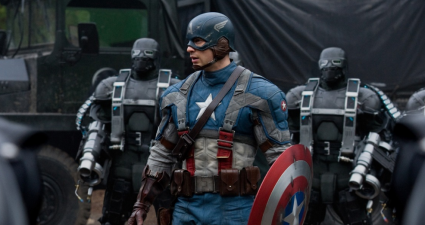 The release of Thor last week marks the beginning of a summer filled with comic book movies. The setup for The Avengers will continue later with Captain America: First Avenger, and we will also get a look at beginning of the Xavier School for Gifted Youngsters as X-Men: First Class. DC Comics finally wakes up from the collective ass kicking they've been receiving at the box office with Green Lantern.
It is a summer almost too crowded with comic book movies. That is, if you're one of those people who don't love a good popcorn flick. We kicked the question around the table at CliqueClack HQ:
Katie: X-Men: First Class. It looks fantastic, and James McAvoy is dreamy as the younger Xavier. Yeah, I'm going full fangirl on this one.
Bob: I'm probably looking forward to Captain America the most. Thor is getting a lot of good buzz, and I want to see it, but I'm intrigued with the look and feel of the Cap movie because it's a period piece. I think it has a lot of potential, and should be pretty unique in the genre. Also, it could just be me, but Green Lantern looks like a special kind of awful.
Carla: I agree, I'm most looking forward to Captain America. I will go see all three, but the Green Lantern trailer cut down my excitement for it. Thor looks interesting, but Captain America looks like it will be summer popcorn superhero fun.
Debbie: This is the perfect time for me to chime in and say that I thought I was looking most forward to Green Lantern, but only because I love Ryan Reynolds. Bob's reply prompted me to check out the trailer, which I had never seen, and he's right … that trailer is so bad it almost looks like a spoof trailer. How very disappointing.
Carla: Same here. I love Ryan Reynolds … but talk about cheesy looking! Though, I thought the G.I. Joe trailer was horrible and wasn't going to see the movie, but it ended up being one of my favorite movies that summer.
Michael: Green Lantern looks amazingly craptastical. Thor:  I. Violated. The. Throne. At. Comic-Con. So … how could I not head out to see this flick? Captain America holds the most promise for me, partially because of the fact the aftermath of the entire super-soldier serum debacle ends up transforming Theodore Sallis into the most macabre muck monster of all time, Man-Thing … my most beloved of all Marvel characters! *SWOON* And good gordness, people: He's a homegrown symbol of justice! He's Captain America! Oh. Yeah. And because it's a period piece, too.
[And then things turned ugly]
An: Green Lantern, 'cus Hal Jordan's awesome and I love Ryan Reynolds' abs.
[The conversation then turned to a compassion between Reynolds' and Chris Evans' abs — It wasn't pretty. Then Noble somehow mentioned his "appreciation" for redheads, and I had no clue where the conversation went off the rails.]
(Our newest Clacker) Jeremy: At this point, I'd say the X-Men movie because it has some great actors and looks great, then after that probably Captain America, because we need our yearly over the top Nazi film. [Check out his review of the Scott Pilgrim DVD]
[Someone was worried that we'd coasted right by her "appreciation" for McAvoy, and sought to remind us.]
Katie: I don't know if you saw it, but I originally put down X-Men. It frankly looks really smart and mature. I love that the Cuban Missle Crisis is in the background and the focus is on the relationship between Charles and Eric. The fact that the McAvoy and Fassbender are supersexy, smart men just makes it that much better.
So, in case you missed it, Katie really likes her some McAvoy and Fassbender. Me personally? I'm really looking forward to all of them. I enjoyed Thor, and equally look forward to seeing Cap rock some Nazis. I think Katie said enough about X-Men for all of us … But it is Green Lantern that will get my vote, if for no other reason than the hate it received during this conversation. Reynolds is a funny, funny guy, and I'm not afraid of a story with cosmic implications.
Which movie are you looking forward to?
Photo Credit: Marvel Studios