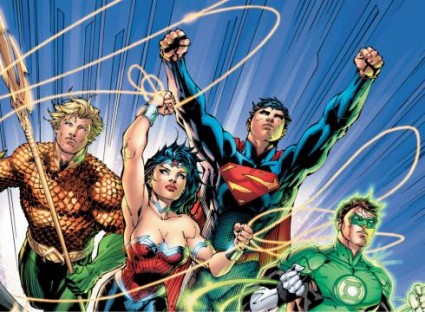 Recently the venerable DC Comics, creator of such famous comic book superheroes as Superman, Batman, Green Lantern, the Flash, Aquaman, and Wonder Woman, has announced a relaunch of their primary titles. This means a lot of new ways to look at the classic characters in more modern perspectives, or sometimes just starting fresh. With over 70 years of comics for some of these characters, there have been many "reboots" and different versions of the origin stories of the superheroes. But rarely is there a company mandate like this one — where everything is changed and nothing is certain.
The announcement came shortly before the release of the recent Green Lantern film — coincidence? Hardly. There have been a few movies from the DC folk over the past few years, but the only true successes have been the Batman films by Christopher Nolan. Superman Returns performed decently, but was very expensive and critically derided. Then there are the ones you haven't seen, like Jonah Hex and The Losers — two DC Comics properties that bombed at the box office. Even the minor successes, such as V for Vendetta and Watchmen, based on titles from DC Comics' more alternative comics company Vertigo, didn't fare that well either compared to the big winners from Marvel Comics — which has been doing quite well recently with Thor and X-Men:First Class, and is expected to do well with the upcoming Captain America movie.
And have you heard the latest rumors about Christina Hendricks being considered for the oft-delayed Wonder Woman film?  Hmm … what about that suspiciously "leaked" information about the new Batman film, The Dark Knight Rises? I expect we'll hear rumors about Zack Snyder's future Superman film any day now.
The real question is whether or not the DC relaunch will actually affect any of the upcoming film projects — or whether it will ignite interest in the cultural zeitgeist of the classic superheroes. Probably not — at least not any time soon.  Any significant changes in the comics (say, making Batman and Joker secret half-brothers) will eventually percolate to future movie properties, but for now it's just all about trying to get attention. And in that way, they've succeeded  — at least just a bit.
Photo Credit: Jim Lee, DC Comics