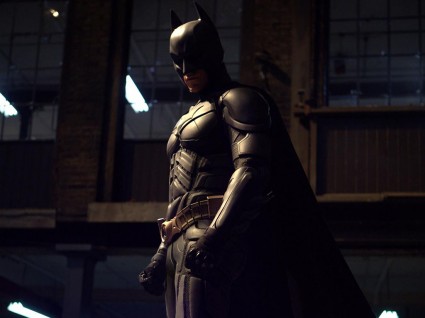 The Dark Knight Rises will be released in just over a year, and I have mixed expectations. I know that it's going to be brilliant/terrible, and that I'm excited/annoyed about it. I can safely say that it will be the best/second best/worst film in the trilogy/genre/world. So why am I dreading the 2012 Batman film? I've identified three reasons why I am not looking forward to it:
Inception 2: With three of the cast of Inception on board, The Dark Knight Rises has been described as an Inception reunion. While I like Joseph Gordon-Levitt, I think Tom Hardy and Marion Cotillard were two of the most annoying things about that thoroughly annoying film.
The Shadow Of Heath Ledger: Christopher Nolan is notoriously secretive, and won't reveal who the villain will be in the third film. (See update below.) But whoever it is, they won't be as good as The Joker.
Christian Bale's Voice: We've seen The Fighter, so we know that Christian Bale can act. Really well. But, as Batman, he's just going to do a stupid voice again. It was ridiculous in Batman Begins; it got even worse in The Dark Knight; and if it follows this trajectory, then The Dark Knight Rises is going to need subtitles.
Having said all that, there are two sides to this coin, much like Harvey Dent's. So here are three reasons why it will be good:
Gary Oldman Is Back: And he has "a lot to do." Commissioner Gordon was the best thing about The Dark Knight … with the exception of Heath Ledger, obviously. As the excellent film critic Mark Kermode says, Gordon was utterly believable and a proper character.
No 3D: Thanks to Christopher Nolan's dislike of 3D, we won't be forced to wear annoying glasses and watch a visually-inferior film with substance sacrificed for a gimmick.
It's The Last One: So even if it is dreadful, at least it's all over.
So I really don't know what to think yet. However, one thing is certain: The Dark Knight Rises will be great/awful. And we've got the bat out of the flat now, by the way.
(Guest Clacked by Daniel "Mini" Meier. UPDATE: I [Keith] am to blame for scheduling this without updating, as we were sent this guest post before it was known who the villains would be. Daniel's not to blame for that.)
Photo Credit: Warner Bros.