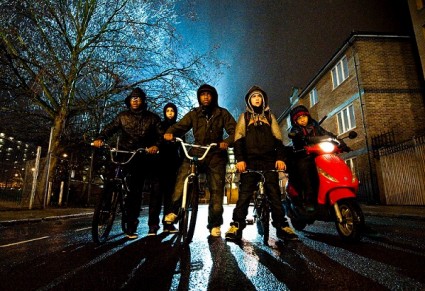 Attack The Block is the debut feature film of Joe Cornish, who is known in the UK as half of the comedy duo Adam and Joe (he's Joe, the other half is Adam Buxton) who used to be on TV and now present a critically acclaimed BBC radio show. As a huge fan of Cornish's work, I had high hopes for Attack The Block, which he wrote and directed. And I was not disappointed.
The film opens in South London, where a group of  what the British press would call "youths" mug a young woman. These seemingly unpleasant characters go on to be the heroes. A handful of reviewers see this as a problem, asking how we can possibly cheer on such horrible people. But we now seem to be beyond the clearly defined Good vs. Evil that we've grown used to; we root for Dexter Morgan in the Showtime series, and he's a serial killer. And we back a bunch of thieves in Ocean's Eleven and Ocean's Twelve, though probably not in Ocean's Thirteen, by which point we'd gladly see them all get shot. The point is, despite what Fox News says, there's no such thing as Good and Evil in such black and white terms. By introducing the main characters with a display of their anti-social behaviour (another British press term) the audience are immediately challenged, and rightly so. I don't want films to put two characters on the screen and say "this is the hero" and "this is the villain," I've seen that enough. Joe Cornish, who was inspired when he himself was mugged by young teenagers, isn't interested in demonizing people like this, nor in glorifying them; he is interested in why they behave in this way.
On the face of it, Attack The Block is about a council tower block being attacked by aliens. But there is far more to it than that. Cornish is a film obsessive who particularly loves Creature Feature films of the '80s such as Gremlins, because of the way they fuse silly horror with social realism. Having seen plenty of these come from the US, he wanted to make one about the UK. And that is exactly what he has done. Beneath the surface, which is crawling with monsters, is genuine social commentary; a sensitive look at the disadvantaged young people with whom mainstream culture refuses to engage. Comparisons are being drawn with Shaun Of The Dead, the successful British comedy/horror film that Attack The Block most closely resembles. In fact, Shaun Of The Dead director Edgar Wright is an executive producer on this film. Shaun Of The Dead seems to come out on top in this comparison, but I feel that Attack The Block has more of a social conscience, and more to say.
Of course, Shaun Of The Dead was a comedy at its heart, while Attack The Block — despite what the trailer and posters would suggest — isn't; it's an action film, with some great moments of black comedy. Other genres are more dominant than comedy, notably horror and sci-fi. Cornish's knowledge of films makes Attack The Block very clever, with everything referencing and drawing from past films; the bikes are a nod towards E.T., the dark clothes and hoodies are a reference to ninjas, and the block of flats itself is meant to look like a spaceship. Cornish noticed that when they were built, these council blocks were designed to represent something futuristic, but now they stand for urban deprivation. The way the block is lit does make it look like a space station, standing alone as if isolated in deepest space. The siege mentality created by setting the action in a high-rise block of flats is extremely effective, the corridors dark and hazy like in an '80s sci-fi film. There is also the traditional message of this type of invasion movie, which is to do with the power of humanity; our anti-heroes join forces with the respectable nurse who they mugged at the beginning, to take on this alien force. They may be very different people, but they are all still people. Even if the teenagers don't talk like people.
The dialogue is wonderfully colourful (which is how we say 'colorful'), the script never missing a beat in authentic South London dialect. Cornish spent time in "loads and loads" of youth clubs in the area to pick up exactly how these teenagers spoke, because he wanted to use this language in, again, a sci-fi style. This language is, well, a language, like Klingon or Na'vi; to most people, it sounds alien. And it is brilliantly spoken by the cast, most of whom are between the ages of ten and 17, and completely new to films. Yet their performances are more impressive than many I've seen from experienced actors. They are refreshing and engaging, particularly John Boyega (who plays Moses) and Alex Esmail (who plays Pest). If we didn't like these characters at the start of the film, we definitely do by the end. They grow and they learn and they entertain. As Nick Frost's character says, "they're quite sweet really, aren't they?"
Overall, Attack The Block is a perfect film. It's intelligent, funny and exciting, and there's depth to it, as it explores social realism. It has a lot to say about youth culture, about society, and about films.
Photo Credit: 20th Century Fox