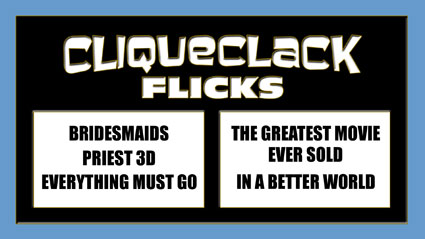 The summer movie season officially started last week with the release of Thor. But if you're not in the mood for big special effects-driven blockbusters, this week's new releases have a little something for everyone else, from a light-hearted chick flick to a hard-hitting art house film. As always, check your local listings for showtimes and theaters.
Bridesmaids
Kristin Wiig, Maya Rudolph, Rose Byrne
Rated R for some strong sexuality, and language throughout.
Priest (3D)
Paul Bettany, Cam Gigandet, Maggie Q
Rated PG-13 for intense sequences of violence and action, disturbing images and brief strong language.
Everything Must Go
Will Ferrell, Rebecca Hall, Laura Dern
Rated R for language and some sexual content.
POM Wonderful presents The Greatest Movie Ever Sold
Morgan Spurlock, Peter Berg, Ralph Nader
Rated PG-13 for some language and sexual material.
In a Better World
Mikael Persbrandt, Trine Dyrholm, Markus Rygaard
Rated R for violent and disturbing content some involving preteens, and for language.
Photo Credit: Chuck Duncan