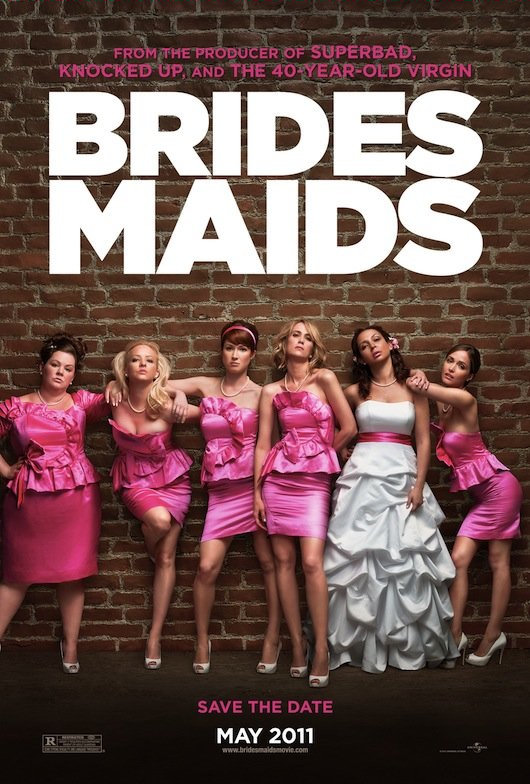 Kristin Wiig stars as Annie, a young woman struggling to get her life together after losing her cake business. Her love life is also a shambles. When her best friend Lillian (Maya Rudolph) gets engaged and asks Annie to be her Maid of Honor, she jumps at the chance to give Lillian the wedding of her dreams. There's just one problem – Helen, Lillian's new BFF. Annie knows what Lillian likes, but Helen is about to prove she's a better friend by stealing and topping all of Annie's ideas with tons of money (and Lillian's dad is none too pleased by the ever increasing total). Can a lifelong friendship survive the competition?
I'm always a little apprehensive when going into a comedy because I'm finding a lot of them to be pretty unfunny. It's such a subjective genre that what some people enjoy, others can not find humor anywhere in the movie. I am going to say right off the bat that I have not laughed out loud and as hard as I did throughout Bridesmaids for quite some time. This is not your average "chick flick." If you liked The 40-Year-Old Virgin and Knocked Up, then you will enjoy Bridesmaids. Why? Because it comes from the same producer, Judd Apatow. The film was written by Kristin Wiig and Annie Mumolo, but the overall feel of the comedy is definitely courtesy of Mr. Apatow.
If you're not a fan of Wiig, then you may have some issues with her performance in the movie because she does pull out a lot of her SNL characterizations, mannerisms and facial expressions. We also get to see a more vulnerable side of her as she's constantly rejected by the guy she thinks she likes – played with great smarminess by John Hamm (Mad Men) – and then doesn't know how to handle genuine affection from a local police officer who keeps pulling her over for busted tail lights. She's been betrayed by love too many times to embrace it when the real thing is presented and sometimes you just want to shake Annie out of her shell (although her terrible life experiences play into some memorable conversations Annie has with customers at a jewelry shop).
Besides Hamm, the only other significant male in the film is Chris O'Dowd (The IT Crowd) as the cop who has to keep finding ways to prove he really likes Annie before she pushes him away. It's a little jarring to hear a Wisconsin cop with an Irish accent, but you get used to it. Matt Lucas (Little Britain) also has a small role as Annie's English roommate. The casting of Lillian's new friends with a host of TV comedy veterans – who will do anything to sell a joke – helps raise the movie into the comedy stratosphere. Jessica St. Claire (Sons of Tucson), Wendi McLendon-Covey (Reno 911!), Ellie Kemper (The Office) and Melissa McCarthy (Samantha Who?, Mike & Molly) are absolutely fearless and don't shy away from the most horrifically funny situations (things you don't normally see in a standard chick flick). Rose Byrne (Damages) is the perfect foil to Kristin Wiig, and she really makes you hate Helen for upstaging Annie at every turn, but in the end you feel sorry for her when she finally reveals why she is who she is.
The movie is full of laughs from beginning to end and it has at least three major comedy scenes that I won't spoil, but keep these things in mind: bridal shop, bridal shower and getting Rhodes' attention. There are many more laughs, from a flight to Vegas to Annie's mom's frightening celebrity paintings (and since there was no on screen dedication, a tip of the hat to the late Jill Clayburgh as Annie's mom in her last screen role). Bridesmaids is quirky, outrageous, raunchy and hilarious and it even has heart, but it's definitely not just a movie that women can relate to. More than a chick flick, this is a date movie that everyone can enjoy and should be the comedy hit of the summer (it'll be interesting to see how it compares to The Hangover Part II which follows it by a couple of weeks). If you want to laugh, go see Bridesmaids!
Photo Credit: Universal