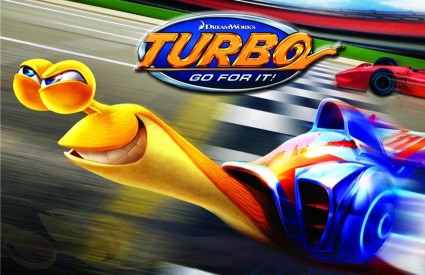 DreamWorks Animation recently announced they're working on an animated movie about IndyCar racing, which is scheduled for a July 2013 release.  Titled Turbo, the film will star Ryan Reynolds as the voice of a common garden snail who has always dreamed of winning theIndianapolis 500.  DreamWorks has also tapped the talents of Snoop Dogg, Samuel L. Jackson, Paul Giamatti, Maya Rudolph and Bill Hader to round out the cast, as well as secured the technical advice from popular series driver Dario Franchitti (a.k.a. Mr. Ashley Judd) to aid them on their quest of bringing the magic of a place that celebrated its centennial in 2011 back to the silver screen after a lengthy hiatus.
This news item from DreamWorks Animation sparked my curiosity about how many times the Indianapolis Motor Speedway or the Indianapolis 500 has been the subject of a film. Numerous NASCAR films spring immediately to mind (Cars, Talladega Nights: The Ballad of Ricky Bobby & Days of Thunder to name but a few), but I couldn't recall a single film dedicated to Indy racing until now. I found this odd because as an Indianapolis native with a family obsessed with the "Greatest Spectacle in Racing," surely I should've seen at least one during my youth. I'm surprised it wasn't considered a rite of passage, much like being crammed into an automobile trunk to avoid paying my admission on a family excursion to the Speedway on Pole Day. Yes, my family really did that to me one year, and to this day, I'm afraid of enclosed spaces.
I do remember some of the sport's most-popular drivers being honored on countless TV shows — I particularly adored watching three-time Indy 500 champion Helio Castroneves dance his way to the coveted Mirror Ball Trophy on Season 5 of Dancing with the Stars. (He remains to this day my favorite competitor out of all 13 past seasons because of his unbridled enthusiasm.) As a child, I fondly watched Fred and Barney compete in the "Indianrockolis 500" on The Flintstones, and I witnessed several legendary drivers guest-star as themselves on Home Improvement, most notably Michael and Mario Andretti and Al Unser, Jr. and Sr.
However, I was mildly surprised to learn that the most recent film featuring the Indy 500 was made over 40 years ago! My internet research revealed that while several films have dealt with the subject, the most recent I could find was 1969's Winning, starring Paul Newman and Joanne Woodward. Others dated back to the silent film era — Racing Hearts (1922) and Speedway (1929) — while a handful of others came and went throughout the '30s-'50s and starred some of classic Hollywood's finest actors, including The Crowd Roars (1932) starring James Cagney, Speed (1936) starring one of my all-time favorite actors Jimmy Stewart in his first leading role, The Big Wheel (1949) starring Mickey Rooney and To Please a Lady (1950) starring Clark Gable. I'm going to have to find some of these because some of them sound like real winners to me.
So, not only does this animated film by DreamWorks mark the anticipated return of the Indy 500 to Hollywood, but it also inspires me, for it's a story about a small snail with a big seemingly impossible dream that he undoubtedly will accomplish by film's end. I almost always root for the underdog. I'm also excited to see the hometown represented positively, as the film also promises to shed some light on the pomp and pageantry that surrounds the event every year. To those who have never been to the race or visited Indianapolis during May, I assure you it really is a big deal to its dedicated fans.
Once the month of May hits, my step-father proudly gets out his black-and-white checkered banner proclaiming "Welcome Race Fans" and his personal Christmas season begins. My family hits the Speedway's Opening Day, Pole Day, Carburetion Day, Bump Day … you name it, and they hit it. The Indianapolis 500 Festival Parade brings numerous celebrities to our fair city for the weeks prior to the race and many a family tunes in to watch the events as they unfold Memorial Day weekend, while sipping cold beverages and firing up their barbecues (unless it's unseasonably cold).
If it's done right (and it sounds very promising), I think Turbo might just be enough to put DreamWorks back on my favorited list again. It definitely sounds better than the crap-tacular premise of Kung-Fu Panda.
Photo Credit: DreamWorks Animation