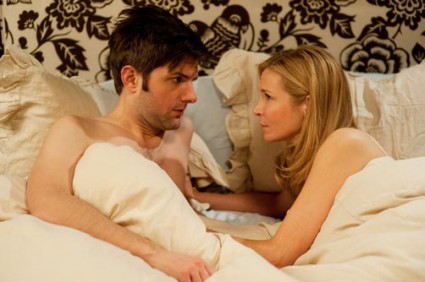 Imagine When Harry Met Sally, mixed with liberal profanity and an onslaught of kids and babies. Replace Billy Crystal with the edgy Adam Scott (from Parks & Recreation) and Meg Ryan with the wry perfection of Jennifer Westfeldt (Kissing Jessica Stein) and have the two thirtysomething friends not only make a baby together while remaining platonic, but continue to date other people after the bundle of joy is delivered. Then you'll have Friends With Kids, a thoughtful new film written and directed by Westfeldt.
Westfeldt's Julie and Scott's Jason are best buds who, like Harry and Sally, are prone to absurd late night phone chats about odd subjects like in which absurd way they'd prefer to die, except that when they call one another in the wee hours of the morning, they're not watching Casablanca together on separate TVs, they're having a post-coital rap session while their lovers, in whom they have no real interest, are zonked out in bed beside them. These college pals live in the same Manhattan apartment building and share the same group of friends, a winning supporting cast of Bridesmaids alums Maya Rudolph, Kristen Wiig, Jon Hamm and Chris O'Dowd, in addition to Ed Burns and Megan Fox who play Julie and Jason's post-baby love interests.
However when their friends start procreating and see their lives consumed by truckloads of plastic kids' crap strewn about the floor, sleep deprivation, diapers, sexual droughts, über crankiness, crying babies and Brooklyn townhouses, Jason and Julie decide that they emphatically do not want to turn into their friends, whose sexy, loving relationships morphed into pits of pathetic pathos after they had children.
Following a disastrous birthday gathering where their friends made parenting while married look extremely unattractive — "We don't know those people. Those people are mean and angry. And mean," Jason observed — Julie and Jason concoct a plan that we all know is ill-fated from the start: They'll have a baby together (because Julie's biological clock is ticking) and share custody of the baby so they can use their non-kid time to date and have sexual liaisons, separating a vibrant sex life completely from the 50-50 parenting gig. This, they believe, is the perfect way to "beat the system" that's currently beating the romance, the allure and the snot out of their pals.
In a typical, nondescript romantic comedy, after this scheme is unveiled, we'd likely see the pair's hopes dashed with forced or manipulative melancholy and some random silly scenes thrown in to lighten the mood before everything careens toward a sappy, inevitable conclusion. But Friends With Kids is a sharp indie which offers insight, humor, heart and a really nasty Jon Hamm scene without ever veering into garden variety, rom-com slop territory. It's a film that sincerely dramatizes how parenting can alter a relationship and how wading through the happy, maddening and messy moments of child-rearing can make or break a couple.
It's intriguing to watch Julie and Jason's friends express their incredulity about the unorthodox arrangement, absolutely certain it's headed for disaster, because if it's not headed for disaster then they'd have to question if they'd made all the wrong choices. All four friends believe there is no way Jason and Julie can share custody, date others and not experience resentment and acrimony. A year+ into the pair's experiment, things are proceeding swimmingly and both land lovers, which drives their friends wild with envy, specifically the men because Jason introduces them to his main squeeze, the youthful Megan Fox. In the case of Hamm's Ben, he simply cannot contain his rage about the fact that Julie and Jason seem content while his marriage to Wiig's Missy — which was once scalding hot — became a hot mess.
Amidst the occasional ugliness and bouts of heartbreak, Friends With Kids actually winds up delivering a charming message about parenting, romance and the joys of sharing a life with someone, even when your kid gets explosive diarrhea all over you and the wall. The parenting experience can forge a bond between partners … or send them fleeing in the opposite direction. It also puts to the test Billy Crystal's famous When Harry Met Sally adage, "Men and women can't be friends because the sex part always gets in the way."
Photo Credit: JoJo Whilden/Roadside Attractions