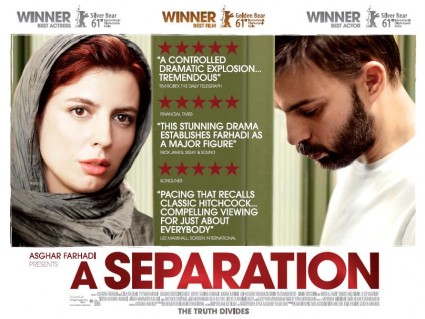 It is rare that you forget you are watching a film. Those ridiculous 3D glasses on your face normally give it away. But A Separation is a film so realistic that you feel that you are not in a cinema at all, but actually watching real people's lives unfurl.
A Separation is an Iranian film, wonderfully written and directed by Asghar Farhadi, about a man called Nader (Peyman Moaadi) who is separated from his wife (Leila Hatami) and looking after his daughter (Sarina Farhadi – yes she is the daughter of the director) and father (Ali-Asghar Shahbazi) who has Alzheimer's. One incident involving the father's carer (Sareh Bayat) causes the lives of two families to unravel.
The combination of believable characters, naturalistic acting, compelling storyline and realistic dialogue makes the film thoroughly engaging. With a clever circularity, the film begins and ends with scenes in which the audience are given the point of view of a judge, forced to decide the fate of a family. As judges, the audience are kept on their toes; most films make it stupidly clear whose side we're meant to be on, to the point of patronisation. However, A Separation offers no easy answers, no black and white allegiances of the kind we've been conditioned to mindlessly accept.
As a challenging film, A Separation also tackles social and political issues concerning class, gender and religion.  While specific to Iran, they are also issues that apply universally; the judicial system's treatment of the working class family, in favour of the wealthier family; the attitudes towards women and motherhood; the role of religion in morality.
Another impressive factor is how well A Separation is shot. The atmosphere is consistently claustrophobic, giving the impression of events closing in. The opening scene is a long, single take, with the husband and wife on either side of the shot, creating a recurring theme of, well, separation. The focus on the children is also effective; the innocent friendship between the two young girls juxtaposing with the conflicting, troubled adults.
In a summer full of repetitive, underwhelming blockbusters, A Separation stands out as a refreshing drama, reminding us of the importance of realism, believable characters and interesting ideas in films. My concern is that not enough people will see A Separation.
*Editor's note: A Separation, currently playing in the UK, is scheduled to be released in New York and Los Angeles on December 30
Photo Credit: Artificial Eye