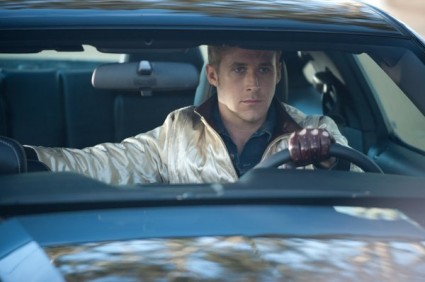 Drive is the latest film from Danish filmmaker Nicolas Refn, which won accolades at Cannes for his action film adaptation of the novel with the same name. It's an interesting fusion of neo-noir crime thriller and indie romance, all orbiting around star Ryan Gosling (Crazy, Stupid, Love), who seems to be quite the new "It" guy in Hollywood. See my exclusive interview with the director about how this movie has been connected to his previous films (the Pusher trilogy) and how he's been slated for a remake of the classic Logan's Run.
The movie tells the story of a unnamed Hollywood stunt driver who also works nights as an anonymous getaway driver for criminals. He is assisted by his boss and local auto shop owner Shannon, played by Bryan Cranston (Breaking Bad), who wants to sponsor his protege for a professional racing career. But to do this he'll need help — meaning money, lots of it, so they turn to producer Bernie, played by Albert Brooks (Finding Nemo), who is also involved in some shady activity with his partner Nino, played by Ron Perlman (Conan the Barbarian). So of course they manage to convince the gangsters to lend them some money. What could possibly go wrong?
In the meantime, the driver has met a neighbor, Irene, played by Carey Mulligan (An Education), who is living with her son after her husband was incarcerated. The two start a sort of vague relationship, but everything changes when her husband Standard (Oscar Isaac) is released from prison. Although Standard seems to want to truly go legit, he has outstanding debts and needs help to pay them off. And the driver may be the only one who can help him.
This setup is what gets the ball rolling for a series of twists and turns careening through Los Angeles. Bullets, blood, love and loss. All told with very little dialogue and a pulsating, retro soundtrack that acts as partial storyteller. This is a movie that vacillates between tender moments with subtle acting and sudden, hyper-violent acts that shock a bit. The story, while not the most original, is unpredictable enough so that you really are unsure precisely how things will end up. I certainly wasn't sure how it would end.
Acting in this movie is strong across the board, with no exceptions. Ryan Gosling plays his mostly silent protoganist role with subtlety and quiet emotion, but still able to achieve powerful levels of fury. Bryan Cranston is fantastic as always as his mentor, and Albert Brooks plays brilliantly against type with his sleazy crime boss character. Carey Mulligan is a bit wan at times, but she acquits herself decently enough, and I appreciated the nuanced character approach of her jailed paramour. Ron Perlman doesn't show up much, but he's convincingly threatening when he does, and even Christina Hendricks (Mad Men, Firefly) makes a brief, shining appearance in the movie in a supporting role.
The direction is an interesting mix of intimate and sharp, but is in general very good. A few small moments are slow and boring, but they don't last for long. This is a very different sort of "crime with some romance" movie, but one that deserves to be seen and noticed for its vitality and originality.
Photo Credit: FilmDistrict