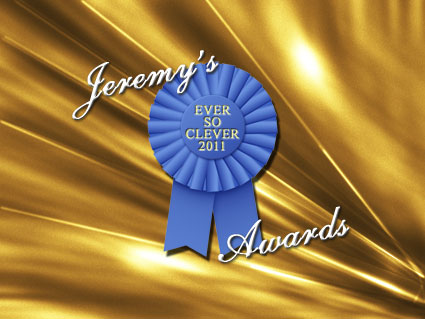 I'm ever so clever! Nobody else will consider coming up with awards that aren't in the same categories as the big award shows!
Oh, what's that? Oh, you say someone else is doing that? Oh, you say EVERYONE else is doing that?
Ah, well. Here are mine anyway.
Best Apperance of a Firefly Alumnus
What with Firefly Week earlier this year and all, it's nice to see what the gang's been up to since graduating from one of the best series in television history. It's also the one category I cared enough to make a picture for:

That took me 2 hours to make.
The winner is… Alan Tudyk in Tucker & Dale vs Evil, with a hilarious and action-packed performance.
Runner Up: Nathan Fillion lending his voice to DC Comics superhero Hal Jordan as the Green Lantern in the straight-to-DVD Green Lantern: Emerald Knights
Worst Place: Alan Tudyk using a "funny" voice in Transformers: Dark of the Moon
Best Mindbending Movie


It's always nice when movies make you think. Or try to, in any event. Sometimes you get a huge one, like Inception … but some years they don't get as much attention.
The winner is … The Adjustment Bureau, which took an odd, pseudo-religious concept and made a love story out of it.
Runner Up: Limitless, which was all about the upper limits of the human mind, if pretty silly in many ways.
Worst Place: Killer Elite, which tried ever so hard to be clever and just couldn't manage.
I think this one is self-explanatory, but…
The winner is … Emma Stone. Don't believe me? Just look at this picture from 2010: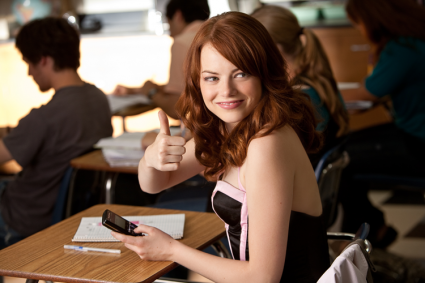 Terrible!
And here's this year: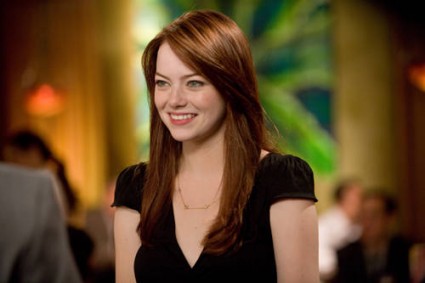 Much better! That kid's goin' places!
Runner Up: Mila Kunis — when I think that just a year ago she was making out with Natalie Portman, and now she's making out with Justin Timberlake. Really makes you think.
Worst Place: Jonah Hill — sorry, but you just aren't as funny when you aren't unhealthily overweight.
Finding a talented youngster isn't easy at all — acting is hard enough when you're an adult. Child actors are often painful to watch.
The winner is … Asa Butterfield from Hugo — intense, expressive, just great work all around.
Runner Up: Elle Fanning from We Bought A Zoo — she's easily the best, consistently great actor in this stupid movie.
Worst Place: Maggie Elizabeth Jones from We Bought A Zoo — she's easily the worst actor in this stupid movie. No offense, little girl!
The Honorary Jude Law Award for Multiple Movies


Remember that year that Jude Law was in everything? Yeah, good times.
The winner is … Ryan Gosling who played broody and silent in Drive, amusing Lothario in Crazy, Stupid, Love, and intense sidekick in The Ides of March.
Runner Up: Natalie Portman who played romantic comedy girl in No Strings Attached, warrior woman in Your Highness, and vague astronomer in Thor.
Worst Place: Justin Timberlake who was okay in Friends With Benefits and not so great in In Time.
Waste of Olivia Wilde

This one's more a pet peeve of mine. I happen to think Olivia Wilde is a talented actress, but she seems to be in some stinkers lately. By the way, I didn't see The Change-Up, which by all accounts was awful.
The winner is … In Time, where she barely appeared at all.
Runner Up: Cowboys & Aliens, where really nobody came off that well.
Worst Place: Last year's TRON: Legacy I sort of liked — yes I'm cheating!
And finally, what are my favorite movies of the year? I decided to split them up into categories.
Best Ending

Oh and Fair Warning: Extremely minor spoilers await!
The winner is … The Artist — just a wonderful ending, don't want to spoil it for you.
Runner Up: Crazy, Stupid, Love. — all the plotlines came together in one hilarious scene.
Worst Place: In Time — Really? That's how you end it? Really?
A comedy is theoretically a simple thing — it's a movie with mostly funny lines that wants to make you laugh.
The winner is …  50/50. Now, I know it's a cancer movie. But gosh darn it, this was really funny!
Runner Up: Bridesmaids — I probably don't need to bother with explaining this one. Everyone's already seen it.
Worst Place: Your Highness — technically had no jokes at all.
A thriller is a movie that keeps you on the edge of your seat, wondering just what will happen next. Could be pure action, could be dramatic thrills.
The winner is … Drive. Just an exciting, smart, and unique take on the action genre that was bloody and quiet.
Runner Up: Mission Impossible – Ghost Protocol. Just came out, but it's just a tiny bit more exciting than the rest.
Worst Place: Sucker Punch. Oh, Zak Snyder. You tried so hard.
Sometimes you just leave a movie feeling great. That's the charm of the "feel-good movie".
The winner is … The Artist. If you don't walk out with a smile on your face and an unshed tear in your eye, you have no figurative heart.
Runner Up: Hugo. This movie about movies and purpose had a sense of joy and wonder permeating throughout.
Worst Place: We Bought A Zoo. My thoughts on this are well documented. I don't like it.
So my favorite movies of the year are: 50/50, Drive, and The Artist. I'm not sure I can decide between those three… or really want to, for that matter. I say, see them all — well, Drive is a bit violent. And 50/50 can be quite intense. And The Artist is in black and white in the silent film style. But whatever, I liked all of them! Here's to 2011's best films, and a hope for great movies in the next year.
Want more? Check out Ivey's and Chuck's best of lists!
Photo Credit: Mr Blue / WENN, Gary Miereanu, Warner Bros, Sony Pictures, 20th Century Fox, Lionsgate, Paramount Pictures, Columbia Pictures, Universal Studios, Disney, Funny or Die, flickr: Cea