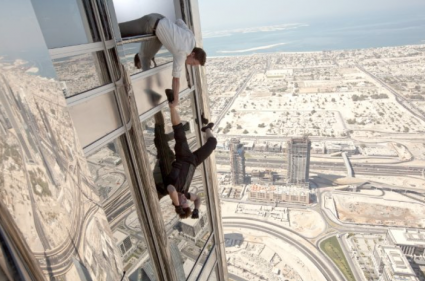 In his live action directorial debut, Brad Bird has set a new standard for what action movies are supposed to look like. Mission: Impossible – Ghost Protocol is a masterpiece. For years I've proclaimed (at the top of my lungs on more than one occasion) that Die Hard is the greatest action movie ever made – I might have to rethink that claim. Producer (and M:I3 director) J.J. Abrams has brought new life to the franchise
When we find Tom Cruise's Ethan Hunt, he is in a considerably different place than we left him – literally and figuratively. This is actually one of my favorite aspects of Ghost Protocol: this story has more ties to the previous movies than ever before. Less so with the villain – the flick's only detriment – but more specifically Hunt; things are not the same at home as before. What caused his change drives not only his story, but others' as well.
Another important distinction between Ghost Protocol and its predecessors is that the team this time isn't the window dressing that is has been relegated to in the past. Simon Pegg returns as tech geek Benji Dunn, newly promoted to field agent. Josh Holloway and Paula Patton are Agents Trevor Hanaway and Jane Carter, partners who are probably a little too close for the IMF's Human Resources Department – if, that is, the IMF has an HR department. Jeremy Renner's William Brandt, a whip-smart analyst who might be keeping some secrets, rounds out the team.
As I mentioned earlier, the only thing that doesn't really stand up are the film's villains. Michael Nyqvist plays Kurt Hendricks, a Russian nuclear game theory expert who is angling to start World War III. Samuli Edelmann is his main henchman Winstrom, Léa Seydoux is assassin-for-hire Sabine Moreau and Vladamir Mashkov is a Russian agent who blames Hunt for attacks on his country. The actors do a fine job, and the characters are fairly well conceived, but the problem is that they are all working in the shadow of Phillip Seaymor Hoffman's Owen Davian. It's not fair, but its there. Hoffman was haunting in the third installment.
But that is only a small criticism in a phenomenal film. I expected great things from Cruise and Renner, but Patton and Holloway had breakout performances (though, I'm not sure that after six seasons of Lost, one can use that word to describe Holloway). However, none of these actors were the star of the film.
If Time Magazine can go all "abstract" with their selection of this year's Person of the Year, then I can get away with it here. The star of this film was the camera, and how director Brad Bird utilized it. All of his experience directing animated features has given him an eye for visual composition that likely knows no rival in all of Hollywood. The film is spectacularly beautiful, the IMAX portions in particular. But the shots don't have to be on a grand scale to be grand – there is one in particular in the final fight sequence that was brilliant. I won't give it away, but you'll know it when you see it. As far as I am concerned, Bird is now the go-to guy in Hollywood for action direction.
Ghost Protocol is a great addition to the Mission: Impossible franchise. It has the requisite M:I twists and turns, an outstanding narrative, Bird's breakout work, not to mention Michael Giacchino's always-outstanding work on the score. The addition of Renner to the cast means that the team is looking to the long-term future of the franchise. If this is what we can expect down the road, then we are all in for a heck of a ride as the series continues.
Photo Credit: Paramount Pictures