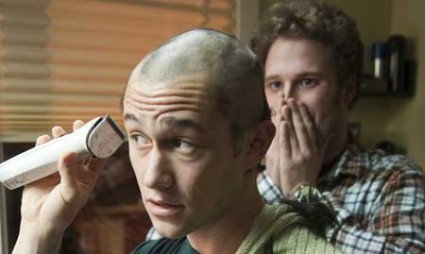 If you think reviewing a comedy, given its objective nature might be difficult, try on a cancer comedy for size. The new movie 50/50 from screenwriter Will Reiser about what essentially happened to him is an attempt to be an honest portrayal of a young man with cancer — albeit a portrayal with a sense of humor. Our hero Adam, played by Joseph Gordon-Levitt (Inception), a mild-mannered worker at NPR is diagnosed with a rare form of back cancer. His odds are 50/50 of surviving, thus the title of the movie. The film presents Adam through his bewildered and confused journey of treatments and emotion.
But he's not alone — Adam has been living with his girlfriend Rachel, played by Bryce Dallas Howard (The Help), who is now presented with the difficult task of supporting a suddenly far more serious sort of relationship. Adam's best friend Kyle (Seth Rogen, playing his real life role on screen) is similarly conflicted by the appropriate sort of response to handle a close friend in the most dire of straits. He first tries out using the disease to get laid, and is fairly successful, to Adam's discomfort. And Adam's mother, played by Angelica Huston is both overbearing and caring, and is already quite busy with supporting Adam's father, who has Alzheimer's and can't care for himself.
And finally there is Katie, played by Anna Kendrick (Scott Pilgrim vs the World), a young and inexperienced therapist who isn't quite a full-fledged psychiatrist but is still attempting to help Adam through his ordeal. At first Adam is fairly resistant to even grasping any sort of help from anyone, but emotions get more and more intense from all sides as the shadow of death creeps ever closer. But will Adam survive his difficult times with the help of his friends and family? Or will he end up pushing them away?
50/50 is a beautifully shot movie, artfully manipulating the audience to ebb and flow with the crescendos of emotions in the film. There are strong performances across the board, even the somewhat villainous Bryce Dalls Howard and jokester Seth Rogen, but Joseph Gordon-Levitt has the hardest job — and pulls it off flawlessly. Although Anna Kendrick's acting is also excellent, there are a few ethical issues with how her character handles the therapy, which I felt weren't entirely addressed adequately. But this is the only real qualm in what is still one of the best films of the year, the sort of movie that can make you despair and feel joy in equal measures.
Now we'll probably start seeing cancer comedies as a brand new genre, but the bar has been set awfully high so far by this funny and moving story.
Photo Credit: Summit Entertainment