Flicks on DVD and Blu-ray – Bridesmaids, Dumbo, Breakfast at Tiffany's
If you like comedy, classics and horror (especially the 80s kind), you'll love this week's home video releases.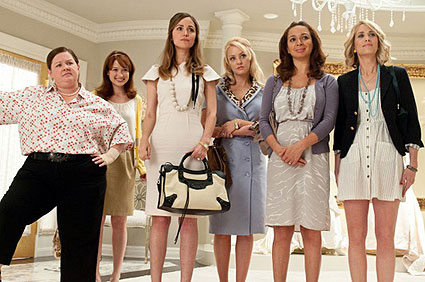 It's a good week for classics on DVD and Blu-ray as Disney opens up the vaults to bring the loveable Dumbo to Blu-ray for the first time for its 70th anniversary, and Breakfast at Tiffany's celebrates its 50th anniversary. If you like good comedy, Bridemaids is a must-see. Of all the male-oriented gross-out comedies released this summer, Bridesmaids was without doubt the funniest movie of the season. Guys, don't think this is just a chick flick. Kristin Wiig and company (including newly crowned Best Actress in a Comedy Series Melissa McCarthy) can be just as gross as any of those Hangover guys. Check out our video guide below, and click on a link if something catches your fancy.
Photo Credit: Universal Pictures