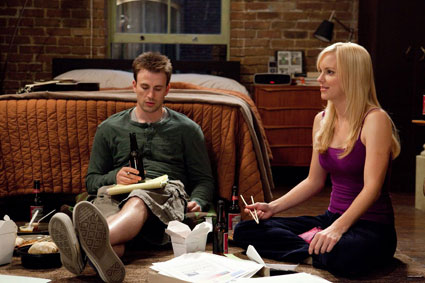 I love me some Anna Faris and Chris Evans seems like a cool guy. So the two are reason enough to see their new movie, What's Your Number? Unfortunately, the plot itself leaves much to be desired. Faris plays Ally Darling, a young woman who can't seem to hold on to a relationship. On the eve of her sister's wedding, Ally looks at her life after seeing an article that says the average woman has 10.5 lovers in her lifetime. At number 19, Ally decides that number 20 will be the man she marries, so she has to not sleep with anyone else until she finds Mr. Right. After getting drunk at the bachelorette party and waking up next to the man who had recently fired her, Ally inadvertanly hit her limit and decides the only way she can have a successful relationship is to go back and rekindle something with a former lover — that way she won't go over 20 different men. Enter her hunky neighbor across the hall, the son of a detective and admitted commitment-phobe (he starts using Ally's apartment to dodge his one night stands), who agrees to help her track down her exes, but … you probably know where the story goes from here.
Yes, this situational romantic comedy has been played to death. You know that Ally and Colin are destined to be together even though she adamantly will not even consider him because he'd be number 21. The guy runs around the place in either boxer briefs or nothing, and she still turns him down (yes, there is a lot of Chris Evans on display in this movie). If you've ever seen a romantic comedy, then what follows will not be a spoiler: Colin falls for Ally long before she even notices him, but when the spark ignites they …. snuggle. Then they break up, but as in all romantic comedies, she realizes he is The One. So, does Ally give in and make Colin number 21? That is one little twist that I actually didn't see coming, so I won't spoil it for you.
Like I said, I love Anna Faris. With the right material, she is comedy gold. From the wide-eyed ditz in the Scary Movie franchise to the boozed-up rock star in Just Friends (with Ryan Reynolds), Faris uses the material and her expressive face to wring every bit of laugter from the jokes. I love the wild and crazy Anna, but I know she wants to stretch a bit. Unfortunately, What's Your Number? only gives her a few moments here and there to really cut loose and leaves you wanting more of that instead of her trying to play the part that any actress could play. I don't know if she chose to rein herself in or if the director did it for her, but it seemed like she really wanted to bust loose and spice things up but this isn't the role that would allow that kind of behavior from start to finish.
Chris Evans is impossibly perfect, and it's not hard to see why he has a string of women in and out of his apartment. Luckily, we never get a sense of him being a misogynist — because that's certainly how the character could be seen — because that would have been disastrous. You want Colin and Ally to get together because something in her completely changes Colin, so that while she's looking for Mr. Right, with his help, he's already found exactly what he could never find in the other women. Evans, as far as the story is concerned, is mostly eye-candy until Colin and Ally finally connect. Until that time, he's just the Ethel Mertz to Faris' Lucy Ricardo cooking up another cockamamie scheme.
The movie itself looks good, using it's Boston setting to great effect. I don't know the geography of the city, so locals will probably have a few laughs, but overall, the city is used very well. I have to wonder, though, would anyone really go skinny dipping in Boston Harbor? If anyone did that in Baltimore's Inner Harbor, they'd need a series of shots afterwards. Well, if nothing else, this scene will be one of those that some people will examine frame-by-frame when the video comes out to see what, if anything, is actually exposed by the stars (or is it their body/stunt doubles?).
Whatever What's Your Number? lacks in originality, it almost compensates with the casting. In addition to Faris and Evans, Blythe Danner co-stars as Faris' overbearing mother with dollar signs in her eyes, and there are a string of humorous cameos including Joel McHale, Chris Pratt (Faris' real life husband), Zachary Quinto, Martin Freeman, Thomas Lennon and Andy Samberg as Ally's exes. Samberg, though, appears in the trailer more than he did in the movie itself. Dave Annable arrives late in the film as Ally's first love. A great cast and good use of location can only take this kind of a movie so far, and while I wanted to love it because of Faris and Evans, I only kind of liked it because I feel like I've seen this movie two times already this year.
Photo Credit: Twentieth Century Fox Film Corporation