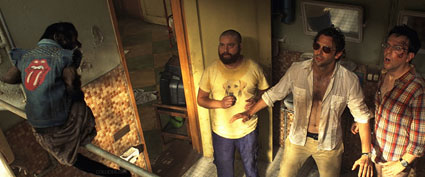 It's no secret I hated The Hangover Part II. I didn't even think the first one was all that funny, but the second one was just a carbon copy of the original set in a new location. Every beat from the first movie was hit at the exact same place in the new one. It was very disappointing. And now the movie is out on DVD and Blu-ray, but is there any reason to run out and buy it?  You have several options — a standard DVD, a movie-only Blu-ray, or a Blu-ray/DVD combo with UltraViolet Digital Copy (a digital version is also available through Amazon). For review purposes, let's take a look at the Blu-ray/DVD combo …
On the Blu-ray, you get the film in a sharp HD transfer. Audio options include an English DTS-HD Master 5.1 Audio track, Dolby Digital French 5.1, Spanish 5.1, and subtitles in those same languages. There is also a Portuguese audio and subtitle track that is not listed on the packaging. The Blu-ray also has BD-Live access for internet connected players.
As far as bonus material, there are several items here that are exclusive to the combo package (the DVD and Blu-ray movie only edition contain just the Gag Reel). These are:
Unauthorized Documentary — This "outrageous" documentary features filmmaker Miles Davis-Davidson (Rob Benedict, "Chuck Shurley" from Supernatural) on his quest to find out what really happened during the shoot in Thailand, seeking footage that has been suppressed because of some alleged incident that occurred. The doc includes a list of famous names, including J.J. Abrams and Morgan Spurlock, who either have bad things to say about the people behind The Hangover Part II, or are afraid to speak badly about them. Davis-Davidson goes so far as to sneak into press junkets to get information from stars Justin Bartha and Ken Jeong, but overall this is a painfully unfunny exercise in self-indulgence. About the only thing that made me laugh was the claim that Bradley Cooper is actually 5′ 7″ and demands to be carried to the set from his trailer.
The Comedy Rhythm of Todd Phillips — A behind-the-scenes look at how Phillips works, with some candid footage and outtakes, letting us in on the process of making a film and letting a bunch of actors re-write the script on set.
Not Your Everyday Monkey — A short look at working with Crystal, the film's breakout star, and how the cast (most notably Cooper) had bonded with her.
Bangkok Tour with Chow — Another unfunny piece as Mr. Chow (Jeong) takes us on a tour of the city … which ends up being mostly a shot of Chow in the back of a taxi pointing out locations that the camera rarely catches as they speed through the streets of Bangkok.
Gag Reel — It's surprising how funny a group of people think they are … but they aren't. There's not one funny flub in the bunch.
Action Mashup — 46 seconds of the film's action sequences. Yes, 46 seconds.
UltraViolet Digital Copy — This is a new feature that allows you to register your movie (with a Flixster account), and have streaming access to it through any supported mobile device. You can also download a digital copy onto your computer. It's a nifty feature, and you can learn more about it at the UltraViolet website.
I would not recommend this particular version of the movie to any hardcore fans of the films. If Warner Brothers follows suit as they did with the first movie's video release, there will be an uncut, director's edition coming at some point. The curious may want to consider this for a rental first before purchasing, but take into consideration the probability of the expanded version. One viewing may be enough.
Photo Credit: Warner Brothers