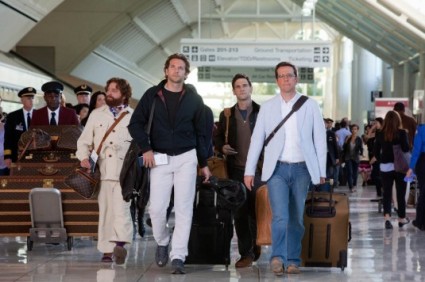 People love a sure thing — and nobody loves it more than Hollywood — hence the countless sequels and remakes that have come out over the last few years and are continuing to be brought to screens around the country. One of the most recent successes stories of these sequels is The Hangover 2, as far as movie makers are concerned, it's a smash hit, having pulled in $137 million in just five days in the US.
After The Hangover made $467 million — a number the second film is expected to surpass — they were quick get a sequel into the works; how could they not? It was such a smash success that people would surely flock to the theaters, and they were right. Only problem is number two didn't live up to its predecessor, however it looks like that won't stop Warner Brothers from starting the process for a third installment of the franchise.
Hold on Warner Bros. — you could be starting a bumpy ride.
The movie company has Hangover 2 writer Craig Mazin in talks to write a third Hangover movie, but doesn't have any of the key cogs to their R-rated comedy machine that's pulled in over $600 million for them. Director Todd Phillips and his stars, Bradley Cooper, Ed Helms, and Zach Galifianakis, aren't under contract for a third film, meaning a hefty pay day will be need to get them to come back.
The critical reception to Hangover 2 isn't going to help them either. The plot was all too familiar, with Phillips and company basically just moving the original to another part of the world and turning up the raunch-factor. CliqueClack writer Chuck Duncan described it as "two hours [he'd] like to forget," and there are a number of critics who just might agree with him.
And how can the men who've made the movie what it is ride the Hangover train for a third time? Cooper doesn't want to be pigeon-holed as the arrogant party boy he plays in these films; he's shown the ability to be far more than that with films like Yes Man and Limitless. Helms wasn't done any favors by his most recent outing as his character Stu and, unless he's given better material to work with, shouldn't bother with a third try.
Galifianakis might have the most to lose from taking up his star-making role for a third time. He's proven an incredible comedic talent, his series Between Two Ferns with Zach Galifianakis has become a staple on funnyordie.com, and his turns as SNL host have certainly proven that. He's also shown the ability to be more than comedic relief, his role in It's Kind of a Funny Story and brief appearance in Up In the Air have proven he do more than hold his own in dramatic roles.
Phillips has shown these kinds of movies are in his wheelhouse. Outside of The Hangover films, his biggest movies have been other R-rated comedies: Old School and Due Date. When he was asked about doing a third, even he said it would be time to move away from the formula and that it would be a finale. When asked where he'd take the movies next, he said:
If we were to do a third one, if the audience … if the desire was there … I think we have a clear idea where that would head and it's certainly not in the same template you've seen these movies and obviously we always envisioned it as a trilogy as you can imagine, the third would very much a finale and an ending.
Maybe Phillips shouldn't have waited for a third to change things up; I would have appreciated something new in Hangover 2. That being said, his comments do make me feel better about the possibility of a third film. It's not going to be easy to get everyone on board again or to capture the magic that made The Hangover such a memorable film, but with the money making power the franchise seems to have it seems inevitable. Shall we hope for the best or is it a mission doomed to fail?
Photo Credit: Warner Bros. Pictures