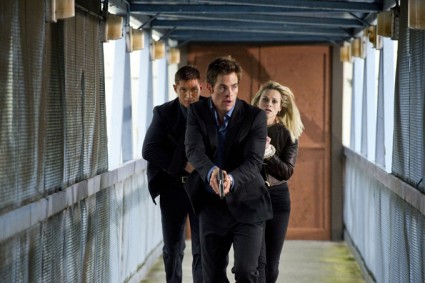 When you hear the name McG, you immediately think — "Wait, that can't be his real name" (and you'd be right), but other than that, you might not remember anything of note. And that's by design, as McG, who's directed such movies as Charlie's Angels and Terminator Salvation, is a director that's all style, no substance. And the style isn't that great either.
This Means War is about two friends who work at the CIA, a pair of spies named FDR, played by Chris Pine (Star Trek), and Tuck, played by Tom Hardy (Tinker, Tailor, Soldier, Spy), who are somehow simultaneously hyper competent but also bumble the important mission, leading their angry and boring chief (Angela Bassett) to send them to desk jobs. The horror! Paperwork, computers, etc. FDR is a jerk who's great with the damaged ladies, and Tuck is a sweet guy with a kid and an ex-wife — they split for unknown reasons, although it's implied it's due to his fake cover job. What, he couldn't tell his wife what he really did for a living? Also, Tom Hardy is the sweet, safe guy, yet he's covered with tattoos and muscles. Sure.
But then Lauren with no last name, played by Reese Witherspoon (Walk the Line, Legally Blonde 2: Red, White & Blonde), ends up dating both guys at once, egged on by her caustic quip-tossing friend (Chelsea Handler). And uh-oh, then the two buddies figure out they are double dating, so it's time for a grave and illegal misuse of government resources to literally eavesdrop on her every conversation and sabotage each other's dates. Oh, and don't forget about the random spy plot! Evil Heinrich (Til Schweiger) wants revenge for the death of his brother, and he wants to kill the lawbreaking heroes! What could possibly happen next?
The answer is every boring and predictable thing you might imagine. So there's a lot wrong with this movie. The story makes no sense (either one), the plot is entirely predictable, and the sound mixing is annoying — often you can't hear the insipid dialogue over the sound of the overloud and grating rock music background. As for the acting, the three leads have decent chemistry, although Chris Pine and Tom Hardy actually have better chemistry with each other than with Reese Witherspoon, whose character is basically "nice and pretty." Her friend, played by comedian Chelsea Handler, offers a few laughs, told in her constantly angry tone and pinched face as per usual, but the movie is just utterly bland and meaningless in the end.
Photo Credit: 20th Century Fox