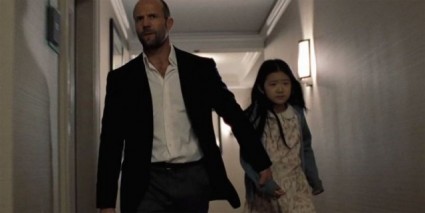 The layers of corruption in life and reality, government or otherwise, can seem disheartening, but don't worry! The movies will go much farther than credulity allows. And maybe they'll tug at your heartstrings, before suddenly shooting everything in the room.
Safe, from director Boaz Yakin (A Price Above Rubies, Remember the Titans), is the latest Jason Statham (Killer Elite, Transporter 3, Snatch) movie, as Luke Wright, with the appropriate cadre of character actors to help out. The movie jumps around a bit at first in time, but then starts going fast and doesn't let up. We first meet young Mei (Catherine Chan), a girl from Nanjing, China, with an amazing gift: she has perfect memory and recall of everything she's ever seen, even complicated math formulas (this'll be important later). Although she is at first slated for a gifted school in Beijing, Mei gets kidnapped off the street by Triad gangsters and sent by "Uncle" Han, played by famed character actor James Hong (Kung Fu Panda, Blade Runner), the Triad leader, to New York City to work as a replacement for a computer — no paper trails, you see. There she works, under the careful eye of her forged "father" Quan Chang (Reggie Lee), seeing things she could never forget. Until she gets an important mission: Memorize a string of mysterious numbers. And then things get crazy.
Meanwhile, Luke is in trouble with the Russian Mafia for failing to throw a fight, leading to the gangsters killing his pregnant wife and ruining his life. He ends up on the streets, and then … he sees Mei. Obviously, Luke becomes an unlikely protector for the young girl, with a secret past that gets revealed by silly exposition in the movie, wisecracking his way through scores of bad guys he kills. But it's not just bad gangsters here — there are crooked cops that are tied all the way up to the Mayor, played by Chris Sarandon (The Nightmare Before Christmas, The Princess Bride), who knows Luke from back in the day. What will happen to young Mei? Will she be … SAFE? Do those numbers unlock a SAFE — either figuratively or literally? You'll have to watch the movie to find out, but really the plot is unimportant.
This is a movie that builds up Luke as a tragic figure, giving Jason Statham some material more than his typical action, then hits you with nonstop action until the denouement. Plot twists and turns exist, but they are fairly predictable. The fun is the little ways the script subverts your expectations while entirely fulfilling them, while Statham quips and kills his way through a pretty fun action movie. His rapport with Catherine Chan is just about right, and she does a good job for the most part, blank usually, but showing emotion when needed. This movie also stars the late Sándor Técsy as the Russian crime boss, which is just about perfect when you see it. The stereotypes are obvious and everywhere, but they fit well in this silly tale of blood and tears.
Photo Credit: Lionsgate