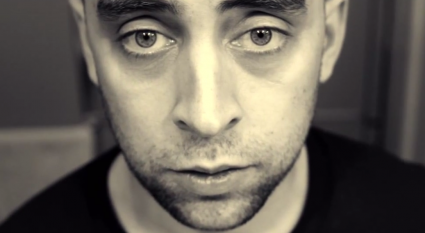 Is the lesson of Ultrasonic that just because one is a paranoid schizophrenic, that doesn't mean that they're all not out to get you? I'm not so sure one way or the other. The film is an interesting psychological look into the beginnings of the deterioration of sanity, but stops short well before the characters have a hard time recognizing themselves.
Simon (Silas Gordon Brigham) is a struggling musician and teacher who has a ringing in his ears that just won't go away. His wife Ruth (Cate Buscher) doesn't take his problem seriously, so he instead turns to his brother-in-law Jonas (Sam Repshas) for answers. Unlike his sister, who is the "go to the doctor" type, Jonas is the "the doctors must be in on it" type, complete with conspiracy websites, chat rooms and grainy videos. But the thing is, the evidence slowly builds in favor of Jonas and Simon's unlikely plot.
The star of the film isn't the actors and certainly isn't the writing, but it is the soundtrack. I'm not entirely sure I have the vocabulary to talk about it, so bear with me as I try. Music is central to the plot; the sound that Simon experiences and believes to be a kind of mind control are musical tones. While I'm not sure the audience ever hears exactly what our lead does, the score guides the story more than any other aspect of the film. I specifically enjoyed the piano solos, reminiscent of The Social Network score.
Writer/Director/Producer/Everything-else-guy Rohit Colin Rao created and recorded all of the music himself. In fact, the entire film was produced for less than $20,000, working with a skeleton crew and doing all of the editing and production work on his Apple laptop. As homegrown as the film was made, Rao and his team are planning on a similar grassroots distribution, eschewing the studio model, in favor of local screenings and internet-based on-demand rentals.
I'm looking forward to seeing if their plan to launch Ultrasonic proves successful. Considering the quality of the production at such an ultra-low budget, this is the type of project that could prove that talent is as important an ingredient to producing a film as funding is.
For more information about theatrical screenings, visit the film's official website. The movie is also available to Comcast subscribers via On Demand, and for purchase on iTunes.
Photo Credit: UltrasonicMovie.com