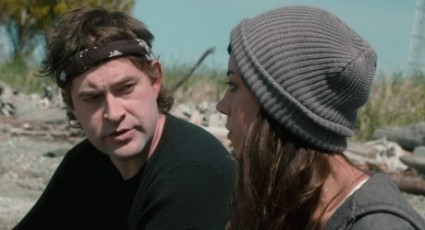 There is a story behind this movie. A few years ago there was a meme that went viral of a classified ad from 1997: "Wanted: Someone to go back in time with me. This is not a joke.You'll get paid when we get back. P.O. Box 322, Oakview, CA 93022. Must bring your own weapons. Safety not guaranteed. I have only done this once." The photo inspired screenwriter Derek Connolly to imagine who would write an ad like that, which means this is essentially a fanfic of a meme … this movie might make the internet implode.
Safety Not Guaranteed stars Aubrey Plaza as Darius, a magazine intern who is still struggling with the loss of her mother a decade earlier. The magazine sends her and two other employees to California to find the writer of the above ad for a fluff piece. Darius gains the trust of Kenneth (Mark Duplass, who also co-produced the film), but soon finds herself swept up in his plans and his enthusiasm for the mission.
This is the best performance I've seen of Plaza. She has a naturally dark, sarcastic tone to her voice that leans towards disdain, but her Darius is a softer, quieter side of the actress. It's when she interacts with Duplass' Kenneth that you get to see her character shine. Duplass and Plaza share fantastic chemistry — their scenes together were the best ones in the movie. You feel like you're watching old friends who feel absolutely comfortable with one another and it's such a relief from the chemistry-less Snow White and the Huntsman a few weeks ago.
I've been a fan of Duplass from his role in The League. Here, Duplass shows a more thoughtful side and quickly won me over with his sweetness and sincerity. Kenneth has an innocent nature but is very aware of when people are patronizing him — he's terrified of being laughed at, and that's something I can relate to. When a "normal" person describes him as weird later in the movie, I did feel myself getting a bit defensive because as quirky as the character is, I did connect with him.
The B-story wasn't quite so strong, but not necessarily bad. The cocky reporter (New Girl's Jake M. Johnson) that comes with Darius is really only there because he wants to meet up with his old summer fling, who he quickly discovers isn't the perfect goddess he remembered in his delusional teenage memories. For the kind of character he is, I found Johnson brought a human level to him. Even when he's mocking or talking over his other travelers, it says much more about his insecurities than them, and I found myself laughing at his lines more than rolling my eyes. Jenica Bergere plays his ex with an authentic warmth, and I did appreciate that the B-story didn't take the easy way out with the conclusion, but every time it was just the two of them together I kept wanting to go back to Plaza and Duplass because they are just that good together.
There were only a few noticeable weak spots. The other intern on the trip (played by newcomer Karan Soni) has potential but quickly ends as a foil for Johnson. There's also a slight plot hole … maybe I just missed it, but I don't think Kenneth ever mentions that he went back in time before and yet it's part of the ad. I can't really describe all the things I liked in the last third of the movie because it would spoil the ending, but let me say I really loved where the movie went. If you're a fan of quirky comedies with a sci-fi slant (or if you're a fan of Plaza or Duplass), this is a must see.
Photo Credit: Big Beach Films