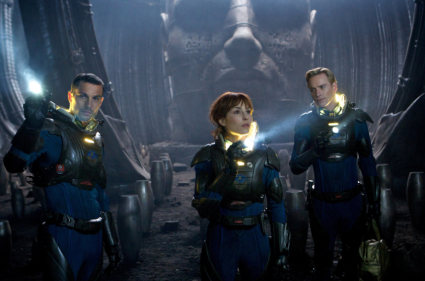 Humanity has always struggled with what is often called "The Big Questions." Why are we here? What is the purpose of life? Is there life anywhere else? What is truly the best flavor of ice cream? (By the way, it is not cookie dough — sorry, but that's ridiculous.) In Prometheus (from director Ridley Scott), such questions are brought up, slightly addressed, vaguely answered, and mostly pushed off for a sequel. But there are some exciting monsters and highly impressive visuals.
But there may be another Big Question you have about this movie: How does this connect to the other Alien movies? Ridley Scott has already said he doesn't consider this movie necessarily in the same "universe" as the other movies (I think especially those Alien vs Predator ones). But without spoiling things, there are some clear connections. The Weyland Corporation is in this movie and the Alien movies, and there is a similar sense of visuals based on the works of H. R. Giger. Before watching this movie, I had not seen any of the Alien films, but I was with folks who had — so I could ask if I had missed anything. The answer, it seemed, was no, you can watch this movie as a entity unto itself. But there are connections, subtle at times, obvious at others, to the Alien movies. I won't spoil the specifics. It seemed to me, though, that people expecting another Alien or Aliens will be disappointed — but I digress.
We start on something thousands of years ago I won't spoil, but I will also say it doesn't really make sense. It's the opening scene of the movie, and it barely is coherent with the rest of it (with what you discover later), although you can make some leaps of logic to explain it. Fast forward to 2089 where archaeologists (and lovers!) Dr. Elizabeth Shaw (Noomi Rapace) and Charlie Holloway (Logan Marshall-Green) discover a series of mysterious "star maps" around the world, which seem to be pointing somewhere far in space — a distant moon of a distant planet. An expedition there is formed, funded by Peter Weyland (Guy Pearce, unrecognizable in highly unconvincing old man makeup) and his Weyland Corporation, heading out on the good spaceship Prometheus. The ship is piloted mainly by Captain Janek (Idris Elba), with the careful supervision of mission director Meredith Vickers (Charlize Theron).
The crew stays in stasis until they arrive in the year 2093, being cared for by human-like android David (Michael Fassbender), who also seems to have a plan of his (its?) own. They head out to explore a mysterious seemingly man-made structure on the moon, with Elizabeth and Charlie being the only characters with enough characterization or personality to matter. Naturally, the two archaeologists are searching for what they call the Engineers, the believed progenitors of the human race on Earth. At first, they seem to have only discovered a long abandoned tomb, complete with mysterious everything. And then it's time for jump scares, creepy walking in dark tunnels, and alien monsters (although not necessarily the ones you'd expect)!
Will Elizabeth find something to justify her faith in a creator or a religion? (Spoilers!) Will Charlie become a character we care about? (No.) And what about David's odd machinations? And will it end with everyone just dead? (Not saying.) Will it set itself obviously up for a sequel? (Yes.)
The problem with the movie isn't in the visuals (which are almost always excellent to watch, although the 3-D is really pointless and wasted), or the acting, which is mostly great (specifically a cold, angry Charlize Theron, an incredibly impressive "fake human" Michael Fassbender, and a smarmy, competent Idris Elba). It's that there really isn't any "point" to the movie. Questions are raised, slightly answered, but it's mostly just a pretty looking horror movie that tries to be more artistic than it really is — the themes are hammered over your head obviously (case in point — the name of the movie). It's a fun, "above-average" space horror movie, but really just an average movie. Sometimes pretty special effects and acting chops don't make a movie into anything that great.
Photo Credit: 20th Century Fox