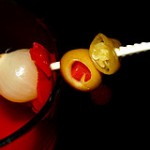 Today, we are going to try Taco Marys! This is not to be confused with a Bloody Maria, which is made with tequila and bloody mary mix, rather than vodka. This week's drink is designed to give you a few extra spices and a little bit of fire, so if you have a bad cold like I do, this should help clear you out.
Because we like our base mix so much (Zing Zeng Bloody Mary mix), we like to add variations to it. But if you have a great Bloody Mary recipe that doesn't involve a mix, I'd love to hear it (and I do have plans for a drink without a purchased mix for the coming weeks). I also mentioned last week that this week we would talk about vodkas. I am not going to talk about brands, but instead, the fact that there are so many great flavor variations out there that you can use with a Bloody Mary.
I suppose I should mention, however, that Absolut vodka seems to have the most and best variety of flavors. For a Bloody Mary, we use regular vodka, Absolut PEPPAR (Roasted Jalapenos, Green Tomato and Dried Herbs flavor), and Absolut Citron (lemon). You can find some other flavored vodkas out there, too, including Stolichnaya. We live in a small town with a limited selection; if you live somewhere that you can find a greater variety, a few nice vodkas and some nice garnishes would be a great Valentine's present for your resident Bloody Mary lover.
In the meantime, here is the Taco Mary:
Recipe
1 part PEPPAR vodka
2 parts Bloody Mary mix
1 dash taco sauce (Taco Bell sauces work great because they come in those neat little packets– perfect for making cocktails)
1 pinch chili powder
1 pinch cumin
Garnish
1 whole jalapeno pepper
red and green bell pepper slices
1 pearl onion
__________________________________________________________________________________________
Take the vodka, bloody mary mix and spices and add to your blender and then blend well and serve over ice. Place the jalapeno pepper and pearl onion on a tooth pick and add to the drink. Then, garnish the lip of the glass with the bell peppers, and serve!
Photo Credit: Dumleedoo/Flickr