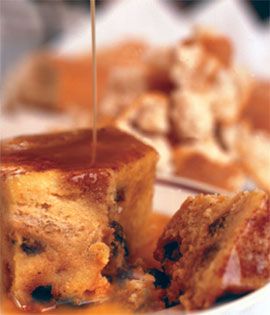 Pia Schiavo-Campo, our Guest-clacker today, is a fabulous foodie with an ardent passion for gastronomy.  She began experimenting in the kitchen about 12 years ago, and before long, this multi-cultural epicure realized she had a gift for cooking. Check out her blog athttp://foodlovela.blogspot.com/.
I dreamt of bread pudding last night. I call these dreams foodmares because when I realize that my food fantasy is not greeting me when I wake up at 3:00 a.m., I'm completely out of sorts. They're cruel, these foodmares. But in my dream state, it's utter bliss. My sweet tooth should really be called a sweet jaw. I'm certain I could subsist on sugar alone, though my growing mid-section is a clear indication I should probably incorporate some veggies into the high glycemic regime I call a diet.
When I'm entertaining at home, I love serving wonderful desserts. It seems that no matter how elaborate or elegant the main dish was, my guests inevitably remember dessert. And so I do my best not to disappoint them. I have several tricks up my sleeve. But the crowd favorite on a chilly evening, is Bread Pudding with Rum Sauce:
Bread Pudding with Rum Sauce
Ingredients:
3 cups of whole milk
¾ cup of raisins ( I like using golden raisins, but any variety will do)
¼ cup of good quality dark rum
1 ½ loaves of stale French bread (sometimes I use croissants) torn into bite size pieces
4 eggs, beaten
1 cup of evaporated milk
1 ½ cups of brown sugar
½ cup of melted butter
2 teaspoons cinnamon
1 pinch of nutmeg
2 teaspoons of good vanilla extract
pinch of salt
Rum Sauce:
½ cup of brown sugar
3 tablespoons butter
1 tablespoon cornstarch
1 cup heavy cream
3 tablespoons dark rum
Place the raisins in a bowl with the rum and let them soak for a few hours until they've plumped up and absorbed the liquid. Remove the raisins, but reserve the remaining rum for later. Put the bread in a large baking or casserole dish. In a large bowl, combine the milk, evaporated milk, eggs, butter, vanilla, cream, sugar, cinnamon, nutmeg and salt. Mix well with the reserved rum from the raisins and pour over the bread. Sprinkle the raisins on top and toss the mixture with your hands making sure all parts of the bread are covered by the liquid and the raisins are evenly distributed. Let it sit for about an hour until the liquid has been absorbed.
Preheat the oven to 350 degrees. Create a water bath by placing the baking dish with the bread pudding into a larger baking dish. Add water to the larger dish, about halfway up the sides. You will bake the pudding for about an hour. Sometimes a little more time is needed. You will have to see if the pudding has set. Use a toothpick and prick the pudding. If it comes out clean, it has set. Remove it from the oven and let it cool about 10 minutes before serving.
For the rum sauce, melt butter in a small saucepan over medium heat. Mix together the sugar and cornstarch, and stir into the butter. Pour in the cream, and cook stirring frequently until the mixture is just short of boiling. Continue cooking until it's thick, stirring constantly. Remove from heat, and whisk in the rum. Serve it warm over the bread pudding. Eat your heart out!
Photo Credit: Pia Schiavo-Campo