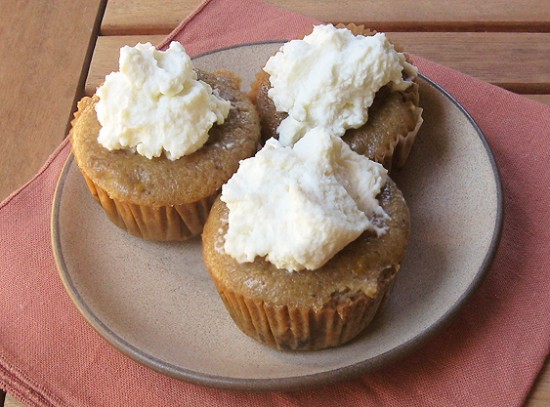 My parents were away for the weekend, my sister was out for the day, and I was home alone with a refrigerator full of food and my mother's vague instructions that maybe I should do something with it instead of sitting on my couch all weekend watching the all-day Dogs v. Cats marathon on Animal Planet. (Which, whatever, was totally awesome.) I'd sauteed up the kale, I'd made some turkey meatballs that were good but the recipe needed tweaking before I was comfortable showing it to anyone, and all we had for dessert was a frostbitten fudgesicle, mango sorbet, and three over-ripe peaches that my mom told me I should get rid of. And then somewhere between my billionth episode of Dogs 101 I had a terrible, brilliant idea.
I should make up a dessert recipe.
Okay, for those of you who don't get why this is a terrible idea, allow me to explain — anyone can make up cooking. Making up cooking is relatively easy. Cooking is not fussy. Cooking doesn't deal with chemistry. What's important in cooking is getting the ingredients un-raw (most of the time). All anyone really needs to make up their own recipe for dinner is a bunch of ingredients they know and a spice rack. I've only been seriously cooking for about a year and a half and I've made up at least five recipes. But making up baking recipes is very difficult.  Baking is chemistry (something I barely scraped by with a B in during summer school because it was easier than taking it during the school year). It's an exact science. And if you start playing with ratios or substituting things you better damn well know what you're doing. My only other experimentation with creating dessert was what I refer to as "The Lemon Meringue Implosion of 2008″ which, well, I think you can figure out how that turned out. But, with great trepidation, I forged ahead, combining a few of my favorite cupcake recipes and hoping the result didn't turn out too badly, and totally pulling the frosting recipe out of thin air. And you know what? It didn't suck. In fact, quite the opposite, it turned out delightful.
My aim, which I think I succeeded at, was to move away from the idea that summer fruit recipes have to be light and fluffy. I've tried a peach cupcake recipe before and it was good, but the cupcake around the peach was kind of bland. I still wanted the peach to be the star, but I wanted it to have an ensemble of sexy supporting characters like whipped cream (which I wanted to be stiff enough to hold up as frosting) and honey and spices.  I wanted cupcakes that I could just have easily been named "Auntie Clarabelle's Spiced Peach Cupcakes" because you eat them in Ju-ly on your veranda while sippin' on sweet tea and listenin' to the sound of banjo music and breezes through the magnolia trees.
I mean, the only time I've ever crossed the Mason-Dixie line in my life was to go to Disney World so I'm not sure if my vision succeeded in that aspect, but I'd like to hope so. I've at least succeeded in one way — yum.
Spiced Peach Cupcakes
(Makes roughly 16 regular-sized cupcakes)

Print This Recipe
Ingredients:
1 ½ cup flour
1 ¼ teaspoons baking powder
½ teaspoon salt
1 teaspoon ground cinnamon
1 teaspoon ground ginger
1 teaspoon ground cloves
1 1/2 teaspoons ground cardamon
3 peaches, peeled and diced in ¼ inch squares
½ cup unsalted butter, room temperature
½ cup sugar
½ cup brown sugar
2 eggs
½ cup milk
Preheat oven to 350 degrees F. Line a muffin tin with cupcake liners.
In a separate bowl, stir together dry mixture (flour, baking powder, salt, spices).
First mix the two sugars together until the mixture is fairly uniform. Then cream the butter and sugar mixture together in a stand mixer with paddle attachment on medium speed until soft and creamy.
Add in eggs, one at a time, beating thoroughly after each addition to combine before adding the next.
Alternate between milk and dry ingredients mixture, waiting until each is fully incorporated before adding more.
Mix in diced peaches.
Using an ice cream scoop fill each cupcake liner.  Don't be afraid to make the liners quite full, this recipe doesn't rise much.
Bake in oven for 20-30 minutes, or until a toothpick comes out clean. Don't worry if the tops look a little oily, that's normal.
Let cupcakes cool before frosting.
Honey Cream Frosting
2 tbsp butter (room temperature)
2½ tbsp honey
1 cup heavy cream
Cream together butter and honey until there are no lumps left
Add cream. Beat until the mixture holds stiff peaks, but do not whip so long it begins to clump — that means it has turned from whipped cream to butter.
Photo Credit: Julia Hass