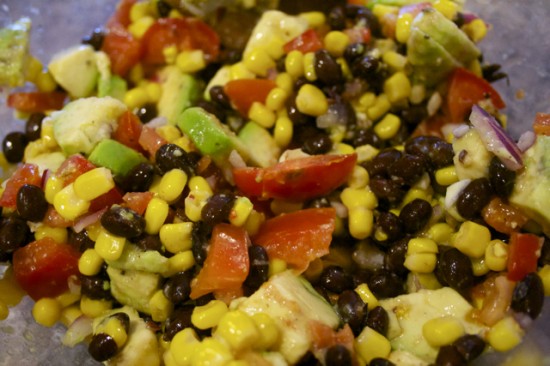 My lovely friend Meredith (of Zephaniah Wine) made this amazing black bean and corn salad/dip thing one weekend, and I've been obsessed with it ever since. It's super-easy to make, and ridiculously good. Sure, it's all veggies, with nary a meat or cheese in sight, but I stand by its deliciousness enough to confidently say that you can bring it to a Super Bowl party this weekend and you won't get thrown out of the building.
Generally canned vegetables freak me out, but it's winter, so good corn on the cob is going to be hard to come by. Plus, frozen corn really won't work for this unless you want to put a lot more time in it that is required. This dip should be served room temperature or cold, so you'd have to cook the corn and cool it before you're ready to put it in — and that's just crazy talk.
I also didn't get the recipe from Meredith, I basically recreated it from the dreams I had about this dip every night since she made it. I asked her later, and it turns out I got pretty close. So without further ado. …
Black Bean Corn Salad/Dip
Ingredients:

1 can black beans (I use the reduced sodium kind)
1 can corn (I use the kind without salt. There's certainly a theme here)
1 large avocado
2 Roma tomatoes
1/2 red onion
1/2 lime
1/4 cup fresh cilantro (don't pack it down or anything ridiculous like that — you don't need a ton.)
2 tbs malt vinegar
salt and pepper to taste
The reason I love this recipe so much is because it's ridiculously quick and easy. Drain the black beans and the corn and  put them in a large salad bowl. Chop up the avocado and the tomatoes and add them to the bowl. I actually only used 1/4 of the onion because I don't really like them. I also chopped them as finely as I could, but that's really dependent on your own personal onion groove.
At this point, you have the base of the dip in place: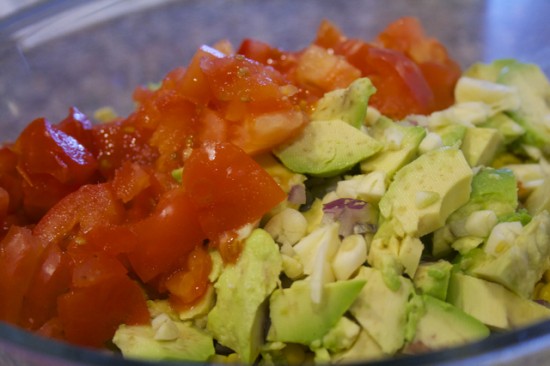 Now you're just bringing it all together. Squeeze your 1/2 lime into the bowl, add the cilantro and the vinegar. You'll probably have to play around with the vinegar and salt and pepper to get it to the exact taste you want. It also serves as a nice excuse to eat a bunch of it before you relinquish it to your guests. Stir it all up, and you're ready to go!
Like Nathan Fillion's bean dip, you're going to need a sturdy chip for this bad boy. Mission Rounds are good, as are the Archer Farms blue corn tortilla chips that I grabbed from Target.
Photo Credit: Kona Gallagher/kona99 on Flickr