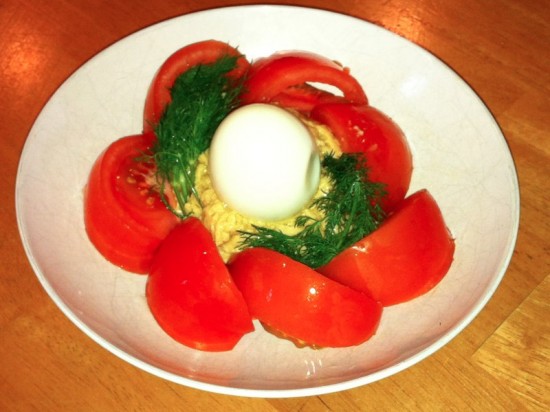 Breakfast. Growing up, this was my favorite meal of the day. Grandma making thin pancakes with jam, honey or syrup. Savory crepes with sour cream and lox. Cereal with berries. Omelets or over easy eggs.   That first meal in the morning really set the tone for how I felt throughout the rest of the day. At some point between high school and now, all of that went away. Mornings became hurried and hectic; and there was no time to do anything more then make a quick cup of tea and run out of the door to start the work day.
This is not a change that I am happy about, and I know it is not a healthy one. Eating in the morning is important to getting your metabolism going. If you skip breakfast, then compensating for the lack of energy with caffeine is not very healthy. Having realized this, I made a change about a year ago as part of my effort to eat better and lose weight. As a result, I am now religious about eating something in the morning. The key for me has been having a repertoire of quick breakfast recipes that I can pull together in 30 seconds to five minutes. That way I am not adding much work to my morning routine and I am able to enjoy a nice meal so that my day is off to a great start. I would like to share a few of these ideas and hopefully you will find them as delicious and fun as I do!

Print This Recipe
Tomato And Egg Salad With Hummus
Hard boil one or two eggs (you can do this the night before)
Slice a tomato, the eggs and mix
Add 2-5 tablespoons of hummus
Add a little olive oil (1-2 teaspoons)
Salt and pepper to taste
Mix it all up, and voila: your breakfast is ready!
Eating breakfast is just one change that I made to my daily routine that has helped me lose weight over the past year.  Inspired by the results, I co-founded LeanWagon, a free community that is helping others eat healthy and lose weight.
Greg is a dedicated web products geek, a technology blogger and a life long foodie.  When he is not writing about healthy breakfast options he is busy working on LeanWagon, a startup helping people eat healthy and lose weight.
Photo Credit: Greg Rublev