Annie is relevant yesterday, today and Tomorrow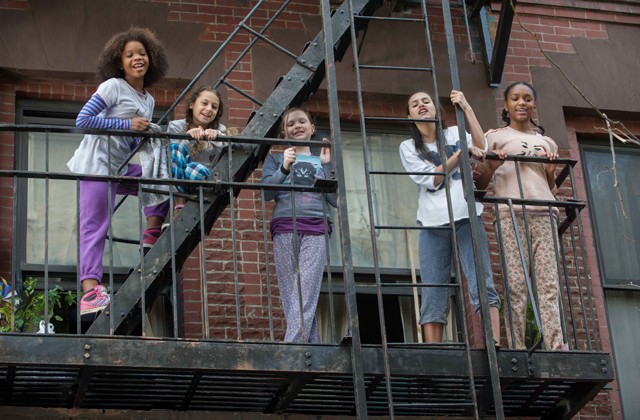 The new 'Annie' updates the classic story for modern audiences, and entertains while asking what defines a family today?
Refreshing! That's the first word that came to mind as I walked out of the movie theatre after seeing the new movie musical Annie. Annie isn't a new story, it's an old story revamped with a funky fresh point of view. The story takes place in modern day New York City, and you'll see a lot of changes; changes you can live with. There's a diverse cast, Annie is no longer an orphan but a foster kid, she lives in a row house instead of an orphanage in the present instead of The Great Depression, and Daddy Warbucks is now William Stacks.
Annie follows a ten year old foster kid (Quvezhane Wallis) through her day-to-day interactions with fellow foster kids and foster mother all while in pursuit of her real parents. Annie tries to have an upbeat attitude, making the best of each situation even when she's often disappointed by her lack of parental love. Miss Hannigan (Cameron Diaz) doesn't make life any easier for her or the other girls in her care.
Quvezhane Wallis is an adorable Annie with just pinch of sass!
Wallis is an adorable Annie with just pinch of sass! She has a sweet voice and I especially like her singing "Opportunity." I like that the writers connected the old with the new by having Annie do an oral book report on Franklin Delano Roosevelt. At times I thought her acting was a bit one-dimensional, that she should have had more facial expression and a little more zing; other times she seemed to nail it!
It took me a while to warm up to Jamie Foxx playing Will Stacks, the cell phone billionaire. At times the acting seemed stiff, especially at the beginning when he was handing out free phones and being a germaphobe; the spitting mashed potato scene was absolutely horrid! I slowly but surely warmed up to his character. Jamie Foxx can carry a tune though. Yes girls, he can really sing and bust-a-move too!
Diaz seemed a little miscast in this role as Miss Colleen Hannigan. This role has always been tailored for a crotchety older woman; Cameron came across as trashy and vapid instead of cranky and cantankerous. Her voice is not robust but she can carry a tune. I liked that Miss Hannigan had been a lost soul; she eventually found that she did care about Annie's welfare. She was like the Grinch whose heart grew three times its size that day!
Rose Bryne played the attentive assistant, Grace, to billionaire Stacks. I liked when Grace joined Annie outside the restaurant showing so much compassion in such a simple act of waiting to see if her parents showed. Just being there talking and waiting with a little girl who hadn't dared to give up hope of one day being reunited with her parents was one of the more heartfelt moments of the film.
Annie kept true to the original score with these important, milestone songs: "Tomorrow," "Maybe," and "It's a Hard Knock Life." The movie added an updated cool twist to "I Think I'm Gonna Like It Here," "I Don't Need Anything But You" and "Little Girls." More importantly, they came up with new original tracks like "Opportunity," "Who Am I?" and "Moonquake Lake." I personally loved "Who Am I?" and "Opportunity" the best!
Annie helped to redefine today's definition of family.
I genuinely enjoyed Annie. It was musical; it was light, and also educational. It was a movie for the whole family. The storyline had a decent flow to it; the musical numbers were enjoyable with lively dance routines, plus there were cool guest appearances by Mila Kunis, Ashton Kutcher, and Rihanna! It was educational, because it helped to redefine today's definition of family. There were also posters and Discussion Guides available so parents could open up a dialogue with their children on important issues facing today's youth and families. Some valid question they asked were "How can you build a better tomorrow in your community?", "What lessons did Annie teach her friends?" and "How do you handle life's hard knocks?"
Kudos to the Annie cast for going above and beyond entertainment, for opening the door to something relevant!
Photo Credit: Sony Pictures