Devious Maids fills the Desperate Housewives void rather nicely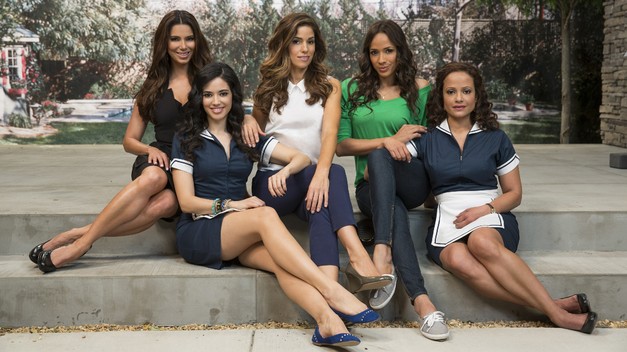 Lifetime's new soapy sudser has been filling the void left by Desperate Housewives. But why did a program featuring five Latinas in lead roles take so long to hit the airwaves?
Good television shows can be so hard to find. While that may not be a documented Nielsen statistic exactly, it's certainly my unadulterated opinion. It's common knowledge among my friends and colleagues that I've been on the search for a good TV show to watch ever since Desperate Housewives went off the air in 2012. I've tried several programs and, well, they all left something to be desired. Luckily for me, a new summer drama has come to the rescue – and it's from the minds behind Desperate Housewives no less.
There's a little murder, scandal and betrayal thrown in for good measure, but that's all a part of the fun.
Ladies and gentlemen, it is my great pleasure to introduce you to the
Devious Maids
of Lifetime – a channel I haven't watched since, well, come to think of it, I don't think Lifetime has ever really been appointment television for me. Nevertheless, I'm now glued to the network every Sunday night to see what devious activities these beautiful maids are going to be involved in. An adaptation of a fun telenovela,
Devious Maids
stars Ana Ortiz, Roselyn Sanchez, Judy Reyes, Edy Ganem, and Dania Ramirez, talented actresses that used to compete against each other regularly in Hollywood for the role of the token Hispanic chick. The show, an equalized mix of drama and comedy, takes a cue from
Housewives
by following the lives of five gorgeous and exceedingly clever women with big dreams. Of course, there's a little murder, scandal and betrayal thrown in for good measure, but that's all a part of the fun.
Anyone with access to the internet may be privy to the fact that the show has generated a bit of negative buzz regarding its portrayal of Latinas as maids. However, as someone who works in public relations, I know the value of attention – whether it's good or bad. But, you see, the thing about Devious Maids is that it's honestly pretty good. Perchance this is why the show has seen a pretty steady increase in viewership, gaining more and more with each passing episode. Entertainment Weekly recently reported that Maids garnered a four percent increase from its premiere in June, and is now shy of three million viewers – which is solid for a cable network. And why wouldn't it continue to gain viewership?
As a man of color, who also happens to write a column on ethnic diversity, I find it absolutely refreshing to see five capable and talented Latina actresses in lead roles. To be honest, isn't it about time? I'm not remotely offended by having these wonderful women of color playing maids. After all, being a maid doesn't define their characters. On the contrary, these women are portrayed as being smarter than their spoiled and pampered employers. Reyes' character Zoila, one of my favorites, is frequently paired up with Susan Lucci's wonderfully hilarious Genevieve. Zoila serves as the voice of reason for Genevieve, a woman who has never had a job and who has been married six – count em, six – times just to have a husband pay for the mortgage of her luxurious mansion. Now, what does that tell you? Mmmmhmph.
It's not the leads that are portrayed as stereotypical. I think it's the employers.
With that being said, is
Devious Maids
stereotypical? Maybe a little — but not in the way you'd expect. I don't think it's the leads that are portrayed as stereotypical. I think it's the employers. That's not necessarily a bad thing. Marc Cherry's shows are known for being over-the-top fun. I don't think
Maids
is trying to prove anything. It's just a good summer show meant to entertain.
And entertain it does.
Seven episodes in, I have a few favorite moments so far. I liked seeing Carmen (played wonderfully by Sanchez) doing the salsa at a party to impress the music mogul whom she hoped to sign with. I also enjoyed Rosie (portrayed marvelously by Ramirez) walking in on her employer cheating on her husband and then asking what kind of coffee she wanted. And I'm really enjoying Marisol (played beautifully by Ortiz) snooping around to find out who the hell killed Flora. Oh, and any scene with either Lucci or Rebecca Wisocky is pure genius. Wisocky can do more with a facial expression than some actresses can do in a lifetime.
So, is the show a carbon copy of Desperate Housewives? Well, yes…and no. But I guess, if it ain't broke don't fix it. The show is something of a real valentine to people who miss Housewives. I think it's filling the void rather nicely. Hopefully, Lifetime renews the program for a second season. I believe they have a real hit on their hands, and I'm finding great pleasure in seeing these amazing Latinas have their (long overdue) moment in the spotlight. It's a shame really that it's taken so long to have a show like this. But let's focus on the positive. At least it's here now.
Having to wait any longer would have been downright devious.
Enjoy the article? Follow Jaylen Christie on Twitter @thesuperflynerd!
Photo Credit: Lifetime