Dolphin Tale 2 will tug at your heartstrings much like the original family favorite did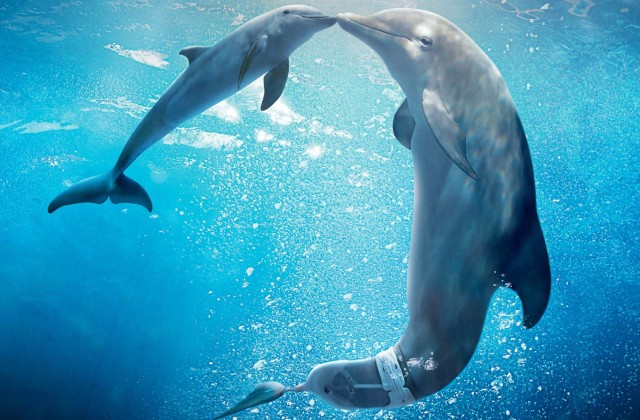 'Dolphin Tale 2' swims its way to a DVD and Blu-ray release this week, but is it as heartwarming as the original 2011 movie?
I've always found humans with disabilities that don't allow themselves to become hindered by them as inspirational, whether they're as humble and cheerful as the fictitious Tiny Tim in Charles Dickens' A Christmas Carol or as fiercely competitive as real-life Olympian athlete Amy Purdy. However, it wasn't until I was sent a copy of Dolphin Tale and Dolphin Tale 2 by Warner Bros. Home Entertainment that I found animals with disabilities could be equally inspirational.
Inspired by the true story of Winter, a young dolphin who lost her tail due to an infection and was given a new life and a second chance thanks to a specially-fitted prosthetic tail, Dolphin Tale was a runaway family hit in 2011. I had heard of it and wanted to see it, but just never had the opportunity to do so until now. And it was just as heartwarming as I'd expected it to be, making my mother and me laugh and cry. I always knew dolphins were a highly intelligent species, but I gained a newfound respect for them after watching this series.
Everyone in the original cast is back, including the mischievous Rufus!
Dolphin Tale 2 picks up a few years after the original and was written and directed by Charles Martin Smith (who also directed the first movie and has a cameo in the sequel as the government agent threatening to take away Winter). Everyone in the original cast is back, from the kids Sawyer and Hazel (Nathan Gamble and Cozi Zuehlsdorff – though they're teenagers going through puberty now), to their respective parents (Ashley Judd and Harry Connick Jr.) and all your other favorite characters portrayed by Morgan Freeman, Austin Stowell, Austin Highsmith and Kris Kristofferson. Even Rufus the bird is back, and up to mischief as always!
What's perhaps most amazing about this 2014 sequel (aside from Winter herself that is) is that it's another true story about the dolphin's inspirational journey. After the death of her surrogate mother, Panama, Winter becomes disconsolate and unwilling to engage with anyone, even her best friend Sawyer. Because of a government mandate that dolphins in aquariums must be paired due to their social nature, the Clearwater Marine Aquarium & Hospital risks losing Winter unless a suitable companion dolphin can be found quickly.
It's not always easy making the responsible decision with your mind when your heart wants to pull you in the opposite direction.
While this may sound easy enough, we discover how tricky the process of pairing can actually be. Just as not every human being is compatible with every other human being (with marriage success and fail rates speaking volumes about compability studies), dolphins are also not always compatible. While the aquarium could have chosen to try and pair Winter with Mandy, another dolphin they rescued, Dr. Clay Haskett (Harry Connick Jr.) makes the ethical decision to release Mandy because she's been rehabilitated and no longer requires care in their facility. It's not always easy making the responsible decision with your mind when your heart wants to pull you in the opposite direction. Just when things look their bleakest, a baby dolphin named Hope shows up at the aquarium … but is Hope the answer to everyone's prayers?
If you can watch either of these movies without shedding at least half of a tear, that's commendable (though not something I'd applaud you for). I, for one, couldn't do it. The dolphins were adorable, and I couldn't help but feel compassion for them whenever they were in danger. What I find so captivating about both stories is that so many people (especially children) with disabilities are given inspiration and hope just by watching them. It was emotionally uplifting to see the children come and be able to interact with the dolphins and other marine life in such a profound way.
There is something extraordinary about this dolphin that goes far beyond her prosthetic tail.
There is something extraordinary about this dolphin that goes far beyond her prosthetic tail. One could make the argument that she simply adapts in order to survive, but I feel there's more to it than that. What separates a quitter from one who is perseverant and refuses to give up? I think it comes down to an inner drive and a personal zest for life, but what I never stopped to think about was that animals can also possess these personality traits – they're not exclusive to humans. Smith does a wonderful job telling Winter's story in a compelling, yet realistic manner in both movies. I was able to emotionally connect with the animals on a level much deeper than I ever thought was personally possible.
I also liked the character development from the original to the sequel. Everyone has come full circle in a meaningful way, not just Winter. Sawyer has emerged from the shy loner he was in the first movie into this blossoming young man who now leads the volunteers at the aquarium, while Hazel seems to enjoy the spotlight as an enthusiastic public speaker when visitors come to observe the animals. Dr. Clay Haskett is still making the important – and often difficult – decisions that define him as a respected professional in his field. Dr. Cameron McCarthy (Morgan Freeman) continues to amaze with his advances in the study of prosthetics and how they relate to humans and animals alike, while Sawyer's older cousin Kyle (Austin Stowell) has embraced his new life working with animal rescues at the aquarium after his injury in the previous movie temporarily set him back.
The Dolphin Tale 2 Blu-ray/DVD Combo Pack is jam-packed with bonus features that I think you and your children will enjoy watching together, including a blooper reel, footage of surfer Bethany Hamilton meeting Winter, an incredible underwater look at the making of the movie, and a couple of other behind-the-scenes featurettes that you won't want to miss. And if you can't make a pilgrimage to the Clearwater Marine Aquarium in Florida to visit the real Winter and Hope, I must confess I also visited the website www.seewinter.com to see what it was all about. The website allows you and your children to learn more about the dolphins' escapades, including updates, visitors' information and information on how to make a donation to their noble cause of "rescuing, rehabbing and releasing" marine life. There's even a gift shop where you can purchase your very own Winter or Hope plushie just in time for the holidays.
Any time you can interact with a child using such a unique inspirational story is a good thing in my opinion. I hope to hear more about this amazing dolphin – and facility – for many years to come.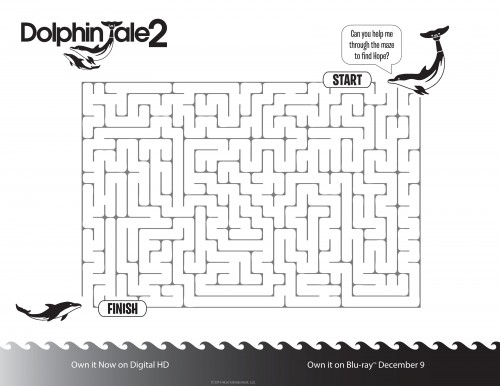 Photo Credit: Warner Bros. Home Entertainment